PM Backs ASEAN FIFA World Cup Bid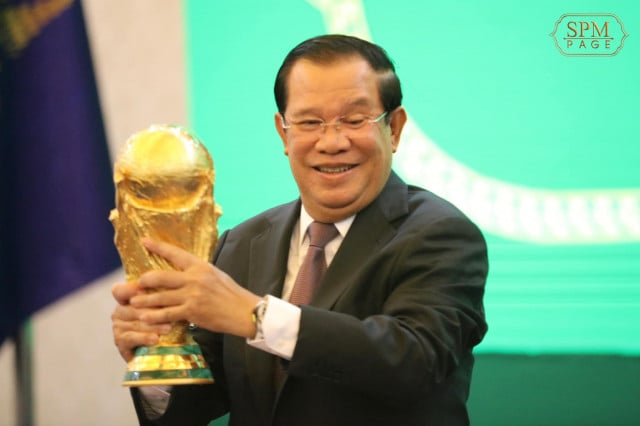 Event would promote cooperation in bloc
PHNOM PENH – ASEAN should consider a joint bid to host the 2034 or 2038 FIFA World Cup to promote cooperation among members, Prime Minister Hun Sen says.
The idea first emerged in 2019 when then ASEAN Chair and Thai Prime Minister Prayuth Chan-o-cha announced that the 10-country bloc would bid for the 2034 event.
The ASEAN countries are Brunei, Cambodia, Indonesia, Laos, Malaysia, Myanmar, Philippines, Singapore, Thailand, and Vietnam.
Hun Sen, as current ASEAN Chair, said on Wednesday during the welcome ceremony for the FIFA trophy tour in Phnom Penh that he wants the regional bloc to have a plan to host the World Cup in 2034 or 2038. He would consider asking other ASEAN leader to support this initiative.
"ASEAN should consider putting forward the candidacy for 2034 or 2038 to further strengthen the values ​​of economic, cultural, educational and sports cooperation in the ASEAN community along with the harmony of member countries by drawing on global economic strength to fill ASEAN's shortcomings from this influential world event," he said.
Asia has held the event only once when Japan and South Korea jointly hosted it in 2002. The second time will be when Qatar hosts the 32 teams in Doha in November, he noted.
Australia has also expressed interest in hosting the event with Indonesia.
The 2026 event will be hosted by Canada, Mexico and the US, while the host in 2030 has not yet been announced.
This year is the first time the trophy, made of 6.142 kilograms of solid gold depicting two human figures holding the globe aloft, will pass through Cambodia. It aims to celebrate the World Cup tournament which will run from Nov. 21 to Dec. 18 in Doha, Qatar.
A welcoming ceremony and multiple photo sessions with the trophy will then be held at Morodok Techo National Stadium today from 1pm to 10pm with a live concert.
The FIFA World Cup Trophy Tour by Coca-Cola kicked off on May 12 in Dubai and will stop in 51 countries and territories.
Related Articles