PM Hun Sen Greets Cambodia's First Drop of Crude Oil, Rejects Oil Curse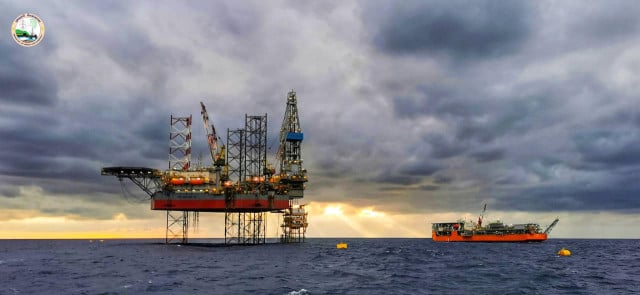 Sao Phal Niseiy
December 29, 2020 10:04 AM
The long-promised extraction of oil from Cambodia's coast has finally arrived and Prime Minister Hun Sen has applauded the discovery of fresh resources.
PHNOM PENH--Prime Minister Hun Sen on Tuesday (Dec. 29) applauded the extraction of Cambodia's first drop of crude oil after almost two decades of production postponement.
"As the head of the royal government of Cambodia, I am very pleased to inform our compatriots about the first drop of our crude oil extraction in Block A of Cambodia's gulf which we have been awaiting for so long," Hun Sen said in his special address on Dec. 29.
Despite the COVID-19 pandemic, Hun Sen said that Cambodia still strives to progress the oil production—something which he called a new achievement that will benefit the country's economy from 2021 onward.
"The kickstart of oil extraction is a blessing for Cambodia. This is the most important step for Cambodia to build up national capacity and the pillar of oil industry, gas and energy sector in the country," he said, adding that the extraction will bring about an increase in national revenues and economic benefits, rather than present Cambodia with a resource curse as some have suggested.
Cambodia's National Assembly passed its long-awaited draft law on petroleum designed to manage, promote and develop the country's petroleum industry on June 17, 2019. However, it remains unclear how much money Cambodia is going generate from oil mining.
Ministry of Mines and Energy's spokesperson Victor Jona could not be reached for comments, but according to the ministry's report in 2019, it is estimated that the Block A contains around 30 million barrels of oil reserve.
In 2002, Cambodia signed an agreement on oil exploration with a group of companies namely Chevron Oversea Petroleum (Cambodia), LG Caltex Oil Corporation, Moeco Cambodia and KrisEnergy. But the process later on had been delayed due to disagreement involving the royalties. In 2014, KrisEnergy purchased Chevron Cambodia for $65 million.
In August 2017, the Cambodian government and KrisEnergy had reached an initial agreement for the development of Block A, covering an area of 3,083 square kilometers and located in the Khmer Basin in Cambodian waters in the Gulf of Thailand. The company claimed the first oil production would be achieved late this year with a processing capacity of 30,000 barrels of fluid per day.
Hun Sen highlighted that the first drop of oil came out coinciding with the 22 years anniversary of his own signature Win-Win policy which brought a complete dismantling of the Khmer Rouge's last stronghold in Pailin, a province bordering Thailand, by disarming and reintegrating combatants into society.
"Without peace, there would be no oil extraction on Dec. 29," he stressed.
Oil Not the Be All and End All
Cambodia announced its first drop of oil as the global oil price has fluctuated with prices dropping lower than $50 per barrel due to the decline in global demand. According to Market Insider, the current crude oil price stands at $48.12 per barrel.
Hun Sen also recalled that in the past, particularly in 1990 and 2000, many international institutions including the World Bank and the International Monetary Fund (IMF) kept asking his government where the revenue generated from oil extraction could be spent.
As the first drop of oil has been extracted, Hun Sen said the question on oil revenue can now be posed.
"Now we can start raising question on how money from our oil resources will be spent. If this question is posed, I will say the money will be allocated mainly to education and health sectors," Hun Sen said.

If there is no oil income, Hun Sen explained that Cambodia can still continue to develop as the country has been expanding its export capacity and trade relations with the outside world.
"Even though we don't get any money from our oil resources, the government won't collapse," Hun Sen said.
Hun Sen went on to raise the country's gold reserve, increasing tax collections as well as the country's growing exports to foreign markets during the pandemic.
He also pointed out that the country is set to benefit economically from the bilateral free trade agreement with China as well as a recently-signed trade pact, Regional Comprehensive Economic Partnership (RCEP) which consists of 15 signatories.
In order to boost the country's economic growth, he said that the government is working on expanding trade relations with other countries. Currently having the bilateral trade agreement with China, the country is expected to sign another free trade deal with South Korea soon, and also the Eurasian Economic Union, Hun Sen added.
Related Articles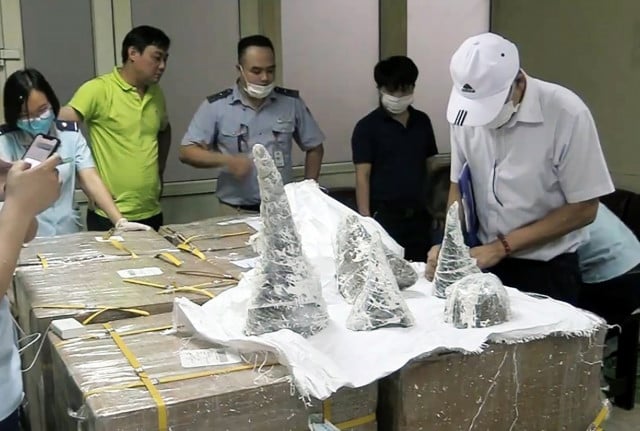 February 22, 2023 3:45 PM