PM Hun Sen Issues Warning Against Further Protests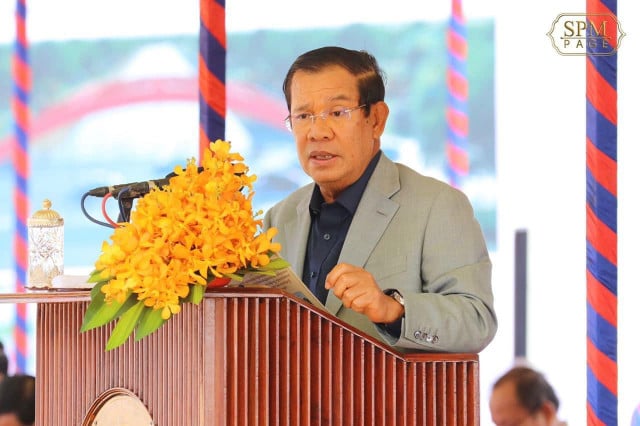 After last week's protests were met with violence by Cambodian authorities, Prime Minister Hun Sen claimed he has eavesdropped on opposition party members' Zoom chats and warned against organizing more protests.
PHNOM PENH--Prime Minister Hun Sen on Monday (Oct. 26) warned a senior member of the former opposition party against mobilizing supporters within Cambodia. This comes after small-scale protests erupted throughout Phnom Penh on the morning of Oct. 23 in commemoration of the Paris Peace Agreement's 29th anniversary.
Speaking during a groundbreaking ceremony for a concrete bridge joining Koh Pich to the new artificial island Koh Norea, Hun Sen accused Ho Vann, a former lawmaker associated with the outlawed Cambodia National Rescue Party (CNRP), of coordinating last week's protests.
"You're a rebel leader who is living overseas, so [in arresting] rebels [we] followed the law," he said. "Stop leading others to jail, while you are free overseas and your family is in Phnom Penh."
Hun Sen claimed that he has heard Ho Vann's voice while eavesdropping on CNRP conversations over the video chat platform Zoom, where Ho Vann allegedly discussed organizing protesters and financing their travels. Hun Sen went on to threaten Ho Vann's family who still live in Cambodia.
"Hopefully, Mrs Ho Vann [Ho Vann's wife] does not act as a distributor of money for the local rebels," he said, but did not detail what retaliation Ho Vann's family could expect.
Last week's protest saw a number of CNRP supporters and land rights activists attempt to deliver a petition to the Chinese Embassy in Phnom Penh in a bid to pressure China—a signatory to the Paris Peace Agreement—into respecting the sovereignty of Cambodia. This came after rumors have continued to swirl over the Chinese involvement and possible use of a deep sea port under construction at Ream Naval Base in Preah Sihanouk Province.
Hun Sen said that he is bored of the consistent remarks being made over the rumored Chinese military base—a rumor he has repeatedly denied—adding that the allegations of Chinese armed forces operating in Cambodia are baseless and lack evidence.
"Where is the evidence? If you have, show it—[if you have] a confidential agreement between Cambodia and China to use Ream Naval Base exclusively for 30 years, release it," he said.
The Center for Strategic and International Studies earlier this month warned that the demolition of the US-funded naval facility at Ream Naval Base further added suspicions in the US that the base would be capable of hosting larger warships and that China's ongoing involvement in this project would further heighten fears that China would be granted some level of use over the base.
Meanwhile, three protesters were arrested on Oct. 23 in their call for China to respect Cambodia's sovereignty. Many others, along with human rights observers and journalists were harassed over the course of the protests.
On Oct. 24, Hun Sen stated that he will not negotiate with another political party for a political solution and added that those who commit illegal acts will be sentenced.
"Those who have been convicted by a court must go to jail first, then we can talk after your imprisonment," he said.
Also on Oct. 24, exiled members of the CNRP released a statement condemning the violence used against peaceful protesters and urged the government to respect human rights, freedom of expression and freedom to peaceful assembly.
All of these rights, the CNRP pointed out, were granted through both the Paris Peace Agreement and the Cambodian Constitution.
Related Articles