Pol Pot Terror Inspires Top Photography Award Entry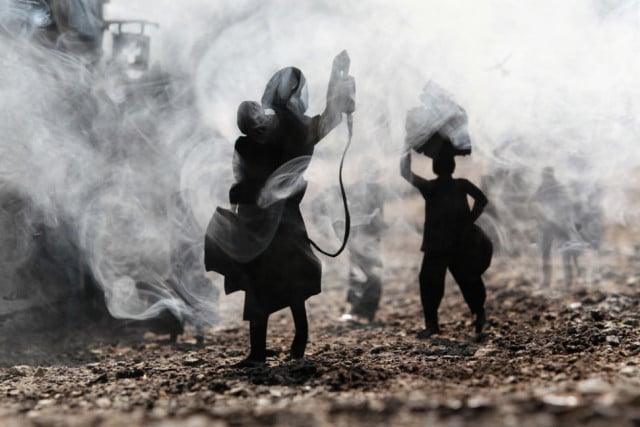 Phnom Penh evacuation offers lessons for future generations
PHNOM PENH--A photo series inspired by a Cambodian photographer's childhood terror and horror at Khmer Rouge atrocities has been nominated for a prestigious international photography award.
Mak Remissa was five years old when Khmer Rouge forces occupied Phnom Penh on April 17, 1975.
The series is titled Left Three Days, based on the length of time people were given before they were forced to leave their homes, leaving the city a ghost town.
Remissa is the only Southeast Asian nominee in the final 12 of the Prix Pictet award. The winner will be announced on December 15 at the Victoria and Albert Museum in London.
He was living at the time near Preah Kossamak hospital, now called the Cambodia-China Friendship Preah Kossamak hospital. He was evacuated to his grandmother's house near the German embassy after his family learned about the country's situation but returned home to his parents the day before the fall of Phnom Penh.
He said that while peeking out from his house, he saw soldiers in black uniforms armed with long guns occupying the area. He was terrified by the gunfire he heard everywhere.
Without knowing details of the evacuation order, his family hid in the house overnight and hoped the situation would improve after the three days.
But it worsened and his family packed clothes and dried food and left Phnom Penh, following crowds walking towards National Road 3.
He recognised that he was walking towards Tram Kak district, Takeo province, which was his father's hometown (now Angkor Chey district in Kampot province). He walked constantly during the day and slept on the streets at night.
Traveling under April's scorching summer was exhausting. The search for water was even harder because the water in holes or small ponds had dried up. Bodies lay everywhere, with the stench spreading for kilometers.
Many people with small children were carrying loads on their heads or carts, which Remissa said was heartbreaking to witness.
Lessons for future
Left Three Days, the fifth artwork series by Remissa, was created in 2014. Remissa said Left Three Days was motivated by his childhood memories during the Khmer Rouge regime. He wanted the work to remind people of this tragedy and avoid making the same mistake.
"I want to document this photograph for the next generation to understand that wars are full of bitterness," Remissa said. "Therefore, we must not let history repeats itself."
The other main message was to remind himself of his family during the evacuation as well as under the Khmer Rouge.
Remissa lost his father and some other relatives during the Pol Pot regime, leaving his mother and grandmother with a few relatives.
"This series of photographs is dedicated to my relatives who lost their lives under Pol Pot, especially my father, as well as other victims that we still miss and remember," he said.
Left Three Days was his fastest production, taking only eight months to organize. He said he was hurrying to finish before the 35th anniversary of the Khmer Rouge in 2014.
"Mostly I produce 24 to 25 photos, but this time I made only 15. This was less than usual and took a shorter time to be made," Remissa said. "However, these 15 masterpieces are full of potential and more popular than my other four pieces."
He has produced five pieces of photographic series. The others were: When the water rises, the fish eats the ant; when the water recedes, the ant eats the fish, in 2005; Water is Life in 2009; Flamed Forest in 2012; and From Haunting to Shooting, also in 2014.
He remains positive and ambitious in each of his works. He said artists should admire and be confident of their artworks so that support and admiration would be well received.
He said that his pieces had been exhibited in many museums around the world and had been greatly admired by foreigners. This created a reputation for Cambodia on the international stage.
"This shows the prestige of artists in Cambodia despite its population size," he said.
Plans to support Cambodian photography
Asked about future works, Remissa said he aims to write a book about techniques, strategies, and experiences he has gained during his journey in photography for future generations.
Meanwhile, he wants to open a school of photographic art to produce potential photographers who will bring Cambodia to another level. To support local artists, he anticipated establishing a museum where artworks can be exhibited for local people.
That way, Cambodian people can tour Cambodian artists' masterpieces without having to go abroad. It was not convenient that Cambodian people must pay entrance fees to see their compatriots' artworks in other countries.
"Cambodia has always been my motivation to create new pieces of art. No matter how tired I am, I will try to accomplish my works because this can bring reputation and benefits to our country as a whole," he said.
For young people, Remissa has advice. He said they should pursue one skill with passion and hard work to accomplish their goals and contribute to society.
"Any skills are important if youth put their efforts into improving them," he said. "Achieving one thing is not easy. It's like planting trees that take years to flourish. Therefore, what I'm doing right now is to promote hard work and perseverance among Cambodian youth."
Moreover, he added that he wants to see Cambodian people stand in solidarity with all peaceful efforts while consistently performing their respective roles.
Related Articles