Politikoffee Launches a Website to Help Young Cambodians Share their Opinions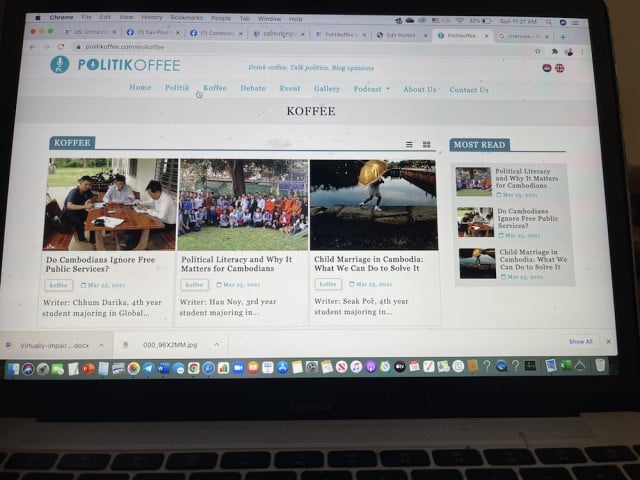 Sao Phal Niseiy
April 18, 2021 4:20 AM
This is part of the group's training efforts to help students voice comments in ways to promote open discussions in the country
PHNOM PENH--The youth group Politikoffee has launched a website to support young Cambodians' efforts to write opinion pieces on the country's social and political issues as well as to help develop a culture of open debate.
"Previously, some youths didn't know where they could express their opinions even though they wanted to," said Ngel Sambath. "With this website, they can write and express their opinions in a more formal way as it works better than social media."
Sambath is a "4th Generation Core Member" of Politikoffee. Founded in 2011, this youth group aims to cultivate a democratic political culture in Cambodia by promoting socio-political awareness as well as a culture of discussion, debate and challenge among youths. Members tend to be university students.
According to Sambath, two articles written by youths will be released each day on the website. There also will be online youth debates and blogging programs that will be part, he said, "[of the project's] youth engagement and gender-responsive public services.
"They will be able to gather ideas, improve their ability to do research, analyze and write on any subject matter," Sambath said. "We hope that their opinions can be policy recommendations for policymakers." Through blogging, he said, youths will now have an official platform to share their opinions on any issues they deem important to the public.
When asked in what way this writing project can help youths improve their skills, Sambath explained that it not only helps enhance their research and writing skills but their reading and critical-thinking capacity as well.
"They will be able to gather ideas, improve their ability to do research, analyze and write on any subject matter," he said. "We hope that their opinions can be policy recommendations for policymakers."
As a member of Politikoffe's editorial team in charge of managing the blog writing process, Heng Kimkong said that the project will help empower Cambodian youth in many ways.
"[Blog writing] engages youth to think critically and provides them with the opportunity to express their opinions and concerns on various issues faced by them, their community, and their country," he said. Moreover, providing them with a platform on which they can express their opinions will help boost their self-confidence, analysis, and communication skills, he added.
Most importantly, said Kimkong who is a visiting senior research fellow at the Cambodia Development Center, the blogs that youths will write may stimulate much-needed debates on key social, political, economic, and environmental issues that people in the country need to openly and frankly discuss if they want to enable more positive changes.
Learning to draw people's attention to little-discussed social issues

One of the participants in the blog-writing project is Seak Por, a senior student in international relations in the Department of International Studies at the Royal University of Phnom Penh. Through this blog-writing program, she has gained not only knowledge but has also improved her skills, she said.
"I see this training as a really insightful experience because it offers me the chance to learn about many issues and also get to actually do something [about them]," she said. The training has so far enabled her to expand her horizons on socio-political issues such as public-service delivery, media literacy, women's political involvement and the LGBT community, she said.

As part of the training program, Por must write and publish blog posts as well as create video contents to voice her opinions and concerns on topics of interest to her, she said.

"For instance, my first blog was about child marriage, which is an issue that can have a very profound impact on the life of the victim but does not draw the attention of the public nowadays," Por explained. "So, I hope that article will help raise awareness about that."

Doing this for the first is a bit challenging, she said, adding that she appreciated the editors' comments and support. "This a really important experience and one through which I can also actually do something that can have some meaning for myself and society."

Following this program, Por said she hopes to keep on writing to raise awareness among people and share her opinions with others to help improve society.
Related Articles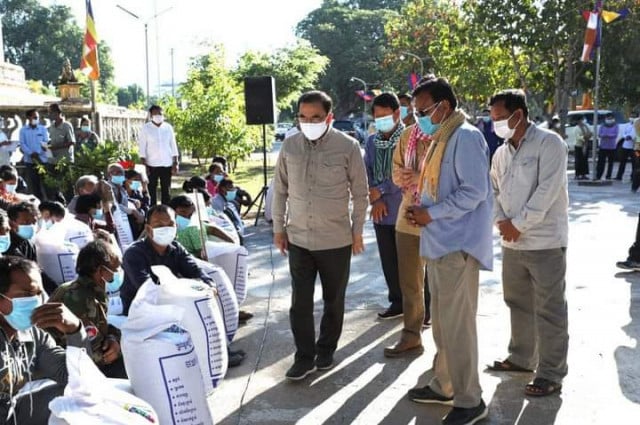 September 11, 2021 6:36 PM