Prime Minister Hun Sen rebukes Singapore's leader over remark about Vietnam's role in toppling the Khmer Rouge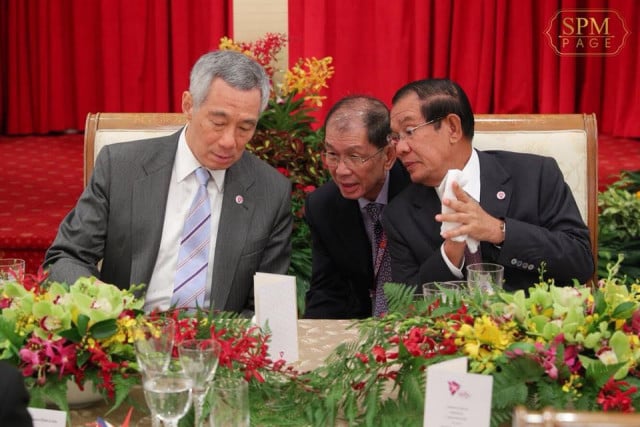 Thmey Thmey
June 7, 2019 4:19 AM
PHNOM PENH--Cambodia's Prime Minister Hun Sen has strongly rebuked Singapore's Prime Minister Lee Hsien Loong for describing Vietnam's role in toppling the Khmer Rouge regime more than four decades ago as an "invasion."

"Singapore Prime Minister Lee Hsien Loong's statement reflects Singapore's position then in support of the genocidal regime and the wish for its return to Cambodia," Hun Sen said in a statement on Facebook on Thursday night.
Prime Minister Lee Hsien Loong stirred up the controversy – which is now spiraling into a major diplomatic spat between the two members of Association of Southeast Asian Nations (ASEAN) for the first time in recent memories – when he offered his condolences over a recent death of former Thai prime minister, Gen. Prem Tinsulanonda.
Lee recalled the effort made by Thailand under Prem's leadership to work with other ASEAN members, only five countries at the time, to effectively contain the spread of communism across the region—specifically the threat posed by Vietnam's occupation of Cambodia after ousting the Khmer Rouge from power.
"Thailand was on the frontline, facing Vietnamese forces across its border with Cambodia. General Prem was resolute in not accepting this fait accompli and worked with ASEAN partners to oppose the Vietnamese occupation in international forums," Lee said in his statement on Facebook.
"This prevented the military invasion and regime change from being legitimised. It protected the security of other Southeast Asian countries, and decisively shaped the course of the region," Lee said.
The Khmer Rouge regime was responsible for the death of some 3 million people from summary execution, forced labor, and starvation during 1975-79.
In his Facebook post Thursday's night, Hun Sen fired back, calling Lee's comment as "an insult to the sacrifice of the Vietnamese military volunteers who helped to liberate Cambodia from the genocidal regime" of the Khmer Rouge.
He also went as far as to recall the role that Singapore played in hosing "the tripartite meeting that led to the formation of the coalition government of the Democratic Kampuchea, which had prolonged the war and the suffering of Cambodian people for another 10 years."
"It's an act against the survival of the Cambodian people," Hun Sen said, adding that Lee's comment "reveals to the Singaporean people and the world that leader of Singapore had indeed contributed to the massacre of Cambodian people."
Meanwhile, a spokesman of Cambodia's Ministry of Foreign Affairs and International Cooperation said it had already called up Singapore embassy in Cambodia to discuss Lee's comment. Ket Sophann, the spokesman, however, declined to give further detail about the nature of the upcoming meeting or when it might take place.
Related Articles