Priscilla Kim Ong Passionate About Learning Her Roots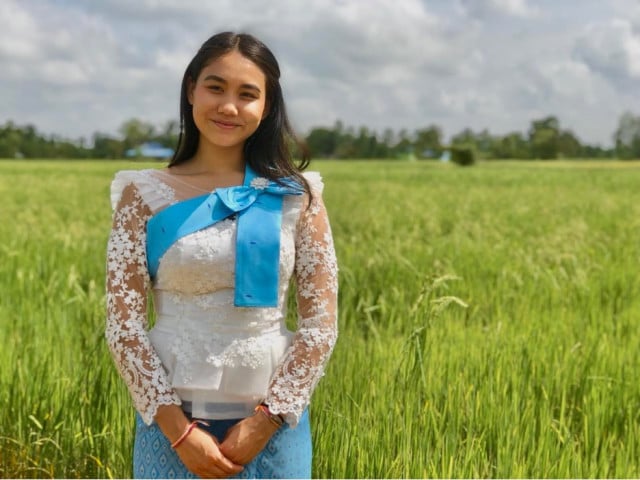 By Lay Lon
December 7, 2022 2:00 PM
"I had my first visit to Cambodia in 2020. I was excited to see what the country has, especially the Angkor Wat temple. Yet, I didn't feel​ I belonged to [Cambodia] because I couldn't speak Khmer and didn't understand Khmer culture," a 22-year-old Priscilla Kim Ong said. "The feeling cultivated my curiosity for the Khmer language and culture."
"I believe, with my privileges, it's part of my life's purpose to help our Khmer Krom people in Kampuchea Krom. So I hope some of you will join me," she added.
Priscilla was born in Massachusetts and then moved to New Hampshire, the United States. Her home was near Lowell city, the second largest Cambodian community. She said that her family usually brought her to nearby Cambodian Buddhist temples when she was young. As a result, she became interested in Khmer culture and heritage, although she could not understand what they were and why people practised traditions. So she just followed what her family did.
Because where Priscilla lived​ had a few Cambodian people, it was challenging for her to learn about Khmer. She was confused about where her family came from until she started college. However, she kept wishing to learn Khmer one day.
"Because the Khmer Krom people grew up with Vietnamese culture too. So, I thought that I was a part of the Vietnamese community," she explained. "I didn't understand what Khmer Krom was about two years ago."
"I've always wanted since I was a little," she added. "I promised myself that one day I would learn Khmer."
Priscilla graduated with her B.A. in International Studies with Sustainable Development and Environmental Justice from the University of San Francisco (USF) in May 2022, where she could intern at the Khmer Kampuchea-Krom Federation (KKF) in San Jose, California.
The 22-year-old woman became aware of where her family came from. She has been passionate about understanding her roots. Her studies about human rights cultivated her curiosity about why and how oppressed and suffering Khmer Krom people are. Then, she started advocating for her indigenous people.
As a daughter of a refugee, Priscilla becomes a first-generation Kampuchea Krom American woman and an advocate for the indigenous Cambodian and Khmer Krom communities in the U.S.
Priscilla posted on her Facebook, "First-Generation" means so much more to me than being the first to graduate from college or the first to be born in the U.S. As the daughter of a Khmer Krom refugee, it's the first generation to simultaneously navigate two seemingly separate worlds: my roots and my future."
Priscilla led the committee to speak at the United Nations in New York.
"As you heard yesterday, we are concerned about Vietnam's response to KKF's participation in the permanent forum and about how they view our Khmer Krom people's struggle for self-determination and the right to self-identify as the threat to the unity in the state…," Priscilla said at the U.N.'s 7th meeting Permanent Forum on Indigenous Issues on Aril 29.
"We seek the U.N. women's help to create projects and initiatives with our indigenous women on the ground in the Mekong Delta to educate, promote, and ensure our women's voices are heard and included."
For her work supporting her indigenous communities, Priscilla received the Community Activism and Social Justice Award from the USF.


As she plans to learn about the Khmer language and culture, the plan moves Priscilla farther away from her family. She flew to Cambodia a month after graduating.
"As a mother, I was once upset when Priscilla went to study college in San Francisco, [California] because she moved out so far. Now she has moved to our country, [Cambodia]," Kim-Tuyen Ong, known as Kim Tien, said. "It is further far. So, I am apprehensive."
Tien, who lives in New Hampshire, is Priscilla's mother. She supports her daughter's choice to study the Khmer language and culture. She said Priscilla could be categorised as the third generation of Cambodian refugees living in the U.S.
Tien said that today, not many young Cambodian Americans are interested in their parents' native language and culture. Therefore, she appreciates what her daughter is doing, although she lives far away from her only daughter. However, she fears the next​ generation will not know what Khmer is.
"I worry about her safety, accommodation, food, and sickness," Tien added. "However, I am happy and proud. I want my daughter to get what she wants."
George Chigas, an associate teaching professor emeritus at the University of Massachusetts Lowell (UMass Lowell) in Lowell, agreed with Tien that the gap between old and new generations had become a concern.
Chigas, a western expert on Cambodia, explained that old and young ones have trouble understanding each other because of the language barrier. For example, most older people do not understand English. In contrast, younger ones do not understand Khmer. Therefore, they have challenges in communication when younger ones do not understand their parents' language, culture, and values.
Chigas added that learning about their parents' origins is essential. The younger generations can understand that the roles of parents and children are much different between their parents' birthplace and theirs. Cambodian Americans should learn Khmer because it helps them communicate with their parents, who know little about English.
"I teach Cambodian language and culture [at the UMass Lowell], so most of my students are Cambodian Americans," Chigas said.
"For Cambodian American students, I think​​ they have a personal meaning because their parents came from there," Chigas added. "Study abroad experience has a powerful impact on the student. They can see a different culture that has a different perspective."
Priscilla arrived in Cambodia​​ with her best friend, Sovanny Thach, a first-generation Khmer Krom American woman who graduated at the same time and university as Priscilla. They interned for two months at the Center for Khmer Studies (CKS) under the Khmer Language and Culture Program.
Like Priscilla, Sovanny feels proud of her roots. Sovanny returned to the U.S. with profound emotions about how she loved and engaged with the country.
"There is no better feeling than going to our motherland, feeling the presence of our ancestors, and emotionally connecting to our rich history," she wrote on her social media account in September. "I am so proud to be Khmer, so I'm so grateful for my post-grad trip to Cambodia."

Priscilla's current residence is in Phnom Penh, where she observes that many younger privileged students prefer to speak English rather than their native language. But, according to Priscilla, some people have trouble with Khmer, too, as she does.
"I thought I had issues [with Khmer] because I was born in the U.S.," Priscilla said. "When I came here to Cambodia, I was so surprised to see …even children born in Cambodia have the same issues. That is very shocking to me. That is very sad for me too."
Priscilla has studied Khmer at Preah Soramarith Buddhist High School in Phnom Penh.
Nhim Nhem, 38, who teaches Priscilla Khmer language, said she has a high commitment and has worked hard to learn Khmer.
"She is also passionate about learning about the culture. She understands Khmer well but is challenged in speaking because she knows few words," said Nhem, a Khmer teacher at Beltei International School.
He continued the national language issues happen to wealthy families who can send their children to private schools at very young ages. The schools can provide English and Chinese classes, yet those youngsters do not learn their native language properly.
"I see parents send their children to learn English at three, four, or five," Nhem said. "Then, they send them to learn Khmer later, about six, because they want their children to know foreign languages first. I have taught young students; they can speak English and Chinese well at four or five. But they cannot speak Khmer."
"Poor children ultimately can speak Khmer," he added.
Nhem is concerned about the risk to the national language when most young adults value foreign languages more than native ones. He added that the young generation seems not to pay much attention to what Cambodia has, such as the language and culture, but foreign cultures have influenced them.
"I see most of them write Khmer in Latin letters…," he said. "If they do not use Khmer, they may [unintentionally] be involved in destroying the national identity."
An educational expert and physician, Quach J. Mengly, said on MJQTV that Cambodian people value English and Chinese more than Khmer, which is wrong. Instead, people should study their native language before others.
"If you have children, have me explain [how their brains process languages]," Mengly said. "Let the children be fluent in Khmer. Then, let them learn second languages when they are nine."
Monks, educators, and experts agree that native language problems exist among youth today. Their concern stems from the fact that the younger generation is saturated with foreign influences, such as foreign languages, without preserving their own.
"If our youth are ignorant about [our] language, it is at risk," Hak Sienghai said. "It can be lost."
Sienghai, one of a few monk professors at universities and a council member of the National Council of Khmer Language (NCKL) at the Royal Academy of Cambodia (RAC), said that the problem inspired him to find ways to promote Khmer. He has been teaching the language for free on Facebook and YouTube since 2017 because "learners" and "youth" are the target audiences. They use social media.
Ethnologist and professor at the Royal University of Fine Arts, Ang Choulean, also worried that people accept something from others without assimilation.
"My speaking may be [hard to accept], but I worry today that we do not have [assimilation]… As a result, we face losing our identity," Choulean said in an opening speech at a panel discussion on the topic: "Them and/or Us" organised by Khmer Living Arts.
He continued that all countries influence each other. Cambodia inevitably has been influenced by foreign cultures through globalization, but Cambodia should think about "assimilation."
"We must have an idea to protect our identity," he added. "Our identity does not depend on rejecting foreign influences, but on protecting what we have."
"Identity has many [elements]," he added. "But the language is the largest."
Priscilla has learned about her roots as much as she can. During Priscilla's stay in Phnom Penh, she took the History of Cambodia class at the Paññāsāstra University of Cambodia, where she could learn more about the educational system in Cambodia and practice her Khmer.
"Many of us in the U.S. fear that our Khmer Krom culture and identity will die in the next few generations if we do not learn about it now," she added. "However, if our people back home continue to be deprived of their true history, I fear our culture will die in Kampuchea Krom too."
Related Articles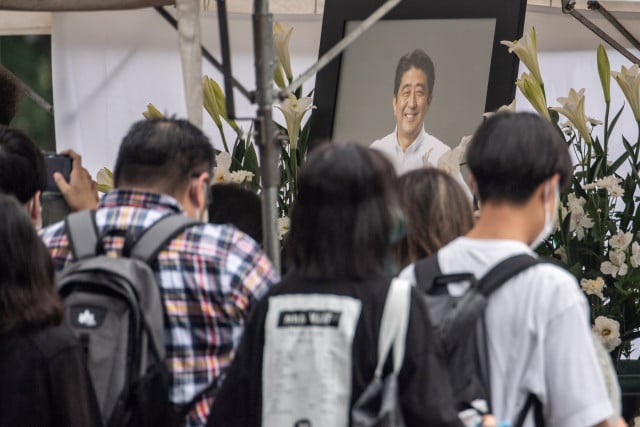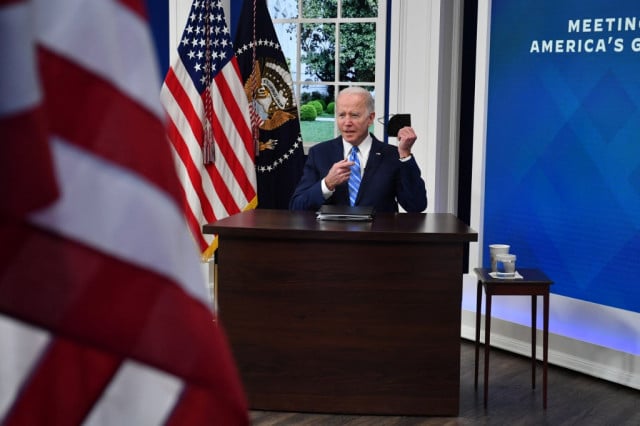 December 28, 2021 2:05 PM