Researchers Solve a Riddle regarding Famed Angkorian King Jayavarman VII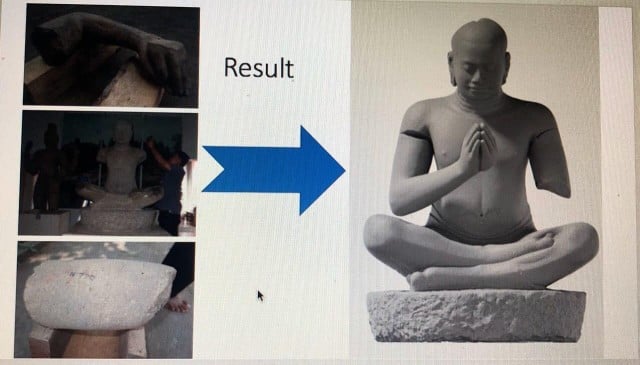 Vantha Phoung
December 11, 2019 6:53 AM
PHNOM PENH—Cambodian and French researchers believed they have at last answered a question that has been puzzling archeologists and art historians for a long time.

According to a release issued Tuesday by Apsara Authority—the government institution that manages Angkor Archeological Park—fragments of the statue of King Jayavarman VII that have been found and new tests conducted make it possible to conclude that the king's hands are joined in a sampeah, or salutation, gesture.
These findings were presented during the technical meeting of the International Coordinating Committee of Angkor (ICC) held this week in Siem Reap City.
As the release explained, experts in the field have long debated whether the statue of the most prestigious Angkorian king depicted him with his hands in a praying or meditating gesture.
Recent discoveries and studies conducted by Cheav Bounthan of the Apsara Authority and Eric Bourdonneau of the Ecole Francaise d'Extreme-Orient—the French research institution in Asia better known as EFEO—have led them to solve the puzzle as they explained at the meeting.
Organized by Apsara Authority and Unesco, the ICC meetings involve representatives of institutions and countries conducting projects in Angkor park. The meetings are presided by the French and Japanese ambassadors since the establishment of the ICC in 1993.
Related Articles