Rice Industry Keeps Tax Benefits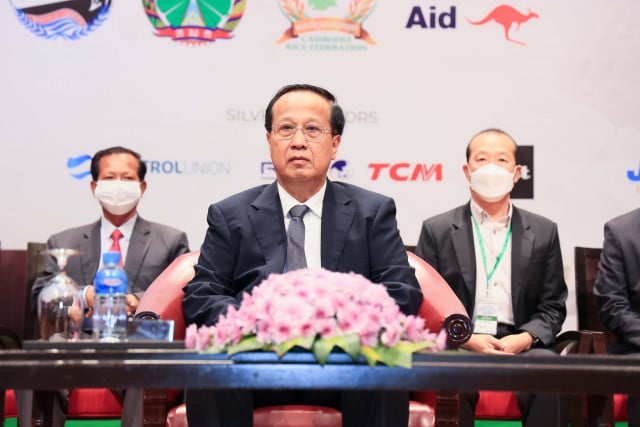 PHNOM PENH – Tax exemptions to ease costs for rice exporters and mills have been extended for another five years.
Commerce Minister Pan Sorasak said the government has considered the competitiveness of the Cambodian rice sector by providing for all types of tax exemptions since 2011.
The Ministry of Commerce is conducting in-depth and comprehensive studies on costs from production to rice export to markets. This work has received co-operation and financial assistance from the Cambodia-Australia Agricultural Chain Program.
Sorasak said at a meeting on Nov. 23 to review the work of 2022 and the direction in 2023, that the study is an important basis to develop strategies and incentives to make Cambodia's rice sector more competitive.
Taxes and duties such as value-added tax and withholding tax on support enterprises and services that serve rice production and export of rice are also exempt, as are from fees and costs for applying for customs clearance documents and certificates of origin.
Efforts to open the market for rice and processed products sourced from rice were helped by including rice on the list of goods in free trade agreements such as the Cambodian-China Free Trade Agreement, the Cambodia-Korea Bilateral Free Trade Agreement and the Regional Comprehensive Economic Agreement.
Cambodia has also signed a memorandum of understanding to export rice to East Timor, the Philippines, Bangladesh and China.
In the past 10 months, Cambodia exported 509,249 tonnes of rice, worth $324 million, of which China accounted for more than 45 percent.
He confirmed that the volume of rice exports increased by 10.67 percent compared to the same period in 2021.
The Ministry of Commerce is currently negotiating new agreements for the Cambodia-UAE Comprehensive Economic Partnership, where rice is also a priority commodity.
"This agreement will expand the potential of new markets in the Middle East, where the market is currently very small, which we hope will further increase Cambodia's rice exports," Sorasak said.
The Ministry of Commerce not only considers one-sided rice exports but also strives to help smallholder farmers better prepare in particular, helping to promote agricultural contracts between smallholder farmers and rice mills, which work through the Accelerating Inclusive Markets for Smallholders Project (AIMS), which is financially supported by the government and IFAD.


Originally written in Khmer for ThmeyThmey, this story was translated by Meng Seavmey for Cambodianess.
Related Articles