Rural Cambodians to Benefit from Japanese Infrastructure Development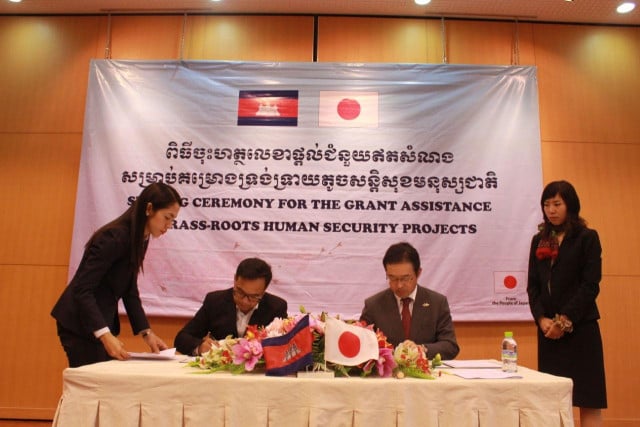 Gerald Flynn
March 19, 2020 11:58 AM
Four provinces to receive grants from Japan to improve school facilities and water supplies

PHNOM PENH--Japanese Ambassador Mikami Masahiro on Thursday (March 19) signed four grant contracts totaling $398,113 for the improvement of water supplies and school facilities in four Cambodian provinces. Pursat, Ratanakkiri, Kratie and Mondulkiri provinces will each receive between $90,000 and $106,000 to develop infrastructure in villages and provide greater access to water and education.

Ambassador Mikami announced that Raing Khvav Village in Pursat province will receive $103,885 for the construction of a water supply system that will improve the standard of living for more than 880 people through a new water distribution network to stretch over 17 kilometers. The project will be carried out by the Cambodian NGO Life With Dignity whose representative thanked the Japanese government and the people of Japan for assisting them on their, he said, "mission to facilitate vulnerable people toward self-reliance."

Provincial representatives from the Ministry of Education, Youth and Sport also thanked the Japanese Embassy for its support that will enable the construction of school buildings and toilets. In Ratanakkiri province, a budget of $90,128 has been allocated to build a five-room school building and four-room toilet, while Kratie Province received $98,100 and Mondulkiri province $106,000 for similar projects. These developments are expected to improve access to education for some 840 students across the three provinces.

Since 1991, Japan has provided more than $60 million to local authorities and NGOs across Cambodia, implementing 624 grant assistance-funded projects. Over the 15-year period between 1994 and 2019, foreign direct investment from Japan totaled $2.5 billion according to the Cambodian Ministry of Commerce.


Related Articles