Russia's War Threatens ASEAN: Envoy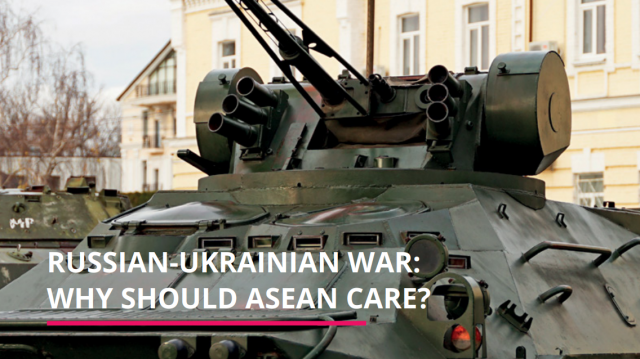 September 29, 2022 6:53 PM
PHNOM PENH – Economic consequences of the Russian invasion of Ukraine have repercussions for vital agricultural and food markets in ASEAN countries with vulnerable population groups that depend on imports of food, feed and fertilizers, a Ukrainian diplomat says.
Nataliya Zhynkina, Deputy Ambassador in Vietnam who has accreditation to Cambodia, says the unravelling global food crisis is of an artificial nature.
Only the end of the war, the withdrawal of Russian troops, the unblocking of Ukrainian ports and holding Russia accountable will solve the food crisis, she writes in the Konrad Adenauer Stiftung Diplomatic Briefing.
"To ensure the long-term stability of agricultural markets in the ASEAN region and the world, in addition to coordinated inter-regional decisions on mitigating the negative impact of food trade disruption, collective effort should be made to end the current crisis and prevent a recurrence of such aggressive wars in the future," she says.
"The longer the war continues, the deeper the crisis will become and the graver the consequences."
The largest-ever package of sanctions on Russia had been imposed by ASEAN's external partners. Attempts to maintain cooperation with Russia may have profound grave systemic consequences for the economies of countries and for the stability of the ASEAN region as a whole, she says.
Russia was seeking ways to get around sanctions by enhancing cooperation with traditional partners in South East Asia. However, Russia was constantly worsening its own business environment, in particular through legitimizing state raiding and authorizing intellectual property theft.
"This is a serious warning for those who still plan doing business with Russia," she says. "They will lose money and assets in deals with Russia, sooner or later. Moreover, they will be out of reach of any civilized court to recover."
Scrapping ties with Russia in critical areas could create conditions for new promising projects in cooperation with world economic leaders, investments, innovations, and more.
"In the global market, there appears to be an empty space. New suppliers will come to compete to get the best deals, and this competition will drive more prospective developments for the benefit of ASEAN."
Many heads of states, including ASEAN leaders, were convinced that sanctions cannot end the war but such measures were an effective, peaceful tool for stopping the aggressor and ending the war. A united and clear response from the world to aggression in international relations was necessary.
"Countries and regions of the modern world are highly interconnected and must work together to meet the challenges of building a crisis-resistant world order, a system in which ASEAN plays an important role," she says.
"Only international solidarity and a strong, united response to aggression against sovereign states can protect the world from further attempts to use force in violation of the fundamental principles of coexistence in the twenty-first century.
Related Articles
November 10, 2021 4:27 PM