S.Korean president's approval rating hits lowest since taking office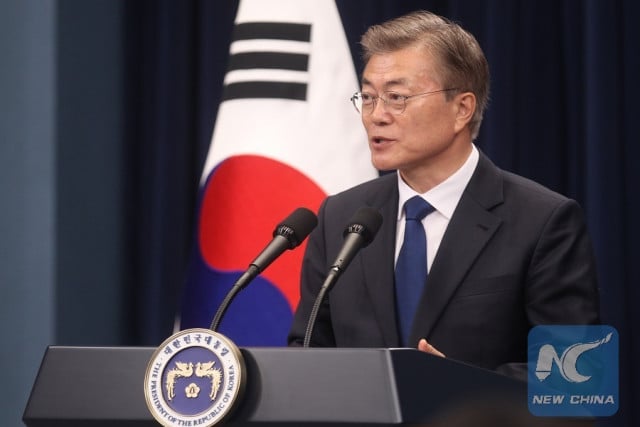 Xinhua
September 19, 2019 9:43 AM
SEOUL -- South Korean President Moon Jae-in's approval rating hit the lowest since he took office in May 2017 amid the lingering controversy over the appointment of new justice minister, a poll showed Thursday.

According to the Realmeter survey, support for Moon declined 3.4 percentage points over the week to 43.8 percent this week, the lowest since Moon's inauguration.
The negative assessment on Moon's management of state affairs gained 3.0 percentage points to 53.0 percent.
It came as speculative news reports continued to come out concerning the family of Justice Minister Cho Kuk. Cho's family was under investigation over allegations of improper investment and illegal college entrance.
Support for Moon's ruling Democratic Party fell 1.3 percentage points to 38.2 percent this week, but approval rating for the main conservative opposition Liberty Korea Party rose 2.0 percentage points to 32.1 percent.
The minor conservative Bareun Future Party won 6.0 percent of support, followed by the minor progressive Justice Party with 5.2 percent, the far-rightest Our Republican Party with 1.6 percent and the center-left Party for Democracy and Peace with 1.5 percent.
The results were based on a survey of 2,007 voters conducted from Monday to Wednesday. It had plus and minus 2.2 percentage points in margin of error with a 95 percent confidence level.
Related Articles