Sochet Vitou: Affordable housing design should be very creative, not of poor quality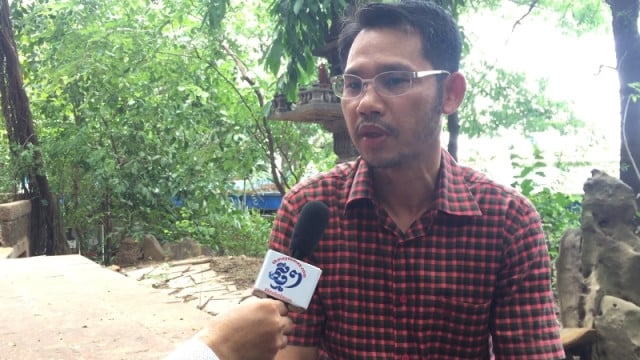 Sao Phal Niseiy
June 29, 2019 3:02 PM
Thmey Thmey Deputy Editor in Chief, Sao Phal Niseiy interviews Tang Sochet Vitou, a professor at the Royal University of Fine Arts who also serves as vice president of the Cambodian Society of Architects. The interview touches upon many aspects including an evolvement of Cambodian housing market trend, affordable housing design as well as new concept of climate-resilient housing.

SAO PHAL NISEIY: In cities, Cambodians have gradually stopped living in apartments and started to live in boreys (gated communities). How do you view this trend?
TANG SOCHET VITOU: We first need to look at Cambodian living environments. People living in rural areas or towns generally prefer to have land to build their own houses. Those running businesses prefer to live in Chinese shop houses, or apartments. But over the past ten years, things have changed with growing urban populations, higher demand for living space and changes in lifestyle. Most people, especially young people, are traveling more to see different countries including to the West. As they experience the outside world and living standards improve, they can create their own dream house. One thing I want to add is that real estate has been getting more expensive. People have begun to sell properties and move to live outside the city.
Construction companies investing in housing and real- estate development are aware of this trend. That's why they started building boreys and satellite cities. Boreys are one of the best options to respond to people's demand. People get familiar with the living environment in boreys and feel comfortable. Of course, they are also affordable in terms of pricing. That's why they became popular.
SAO PHAL NISEIY: How do you see the future of boreys?
TANG SOCHET VITOU: If you look at the general population, land is getting more and more expensive. How many people can buy land to build their own houses? Buying land already costs you a certain amount of money, and you need more to build the house. It's definitely difficult for low and middle-income people.
Boreys offer them a reasonable price as investors can buy cheap land to buy thousands of housing units and can sell them more cheaply. So boreys will remain popular and be able to respond to long-term demand.
SAO PHAL NISEIY: How do you see our current public housing policy?
TANG SOCHET VITOU: The Department of Housing at the Ministry of Land Management, Urban Planning and Construction is responsible for executing this public housing policy. I've not seen any actual projects being built so far although I have heard about the policy for quite some time. Maybe I just don't have enough information to know where public housing is being built.
SAO PHAL NISEIY: We are going to need more than one million homes to respond to the growing urban population. Do you agree that we really need more public houses for lower and middle-income people?
TANG SOCHET VITOU: The idea of an affordable housing policy is generally part of the government's responsibility to respond to the demands of people who cannot afford to buy a house. I'd say that public housing projects — run and managed exclusively by the government or in partnership with the private sector — will be a solution that can help the public and low-income people. In practice, however, public housing in our country has been very slow as responsibility to meet people's housing needs in Cambodia has been given to the private sector. So they take the responsibility to build the boreys and people don't have many choices. Regarding the government's role, I think policies are in place but implementation is still not clear. Maybe they've done it somewhere but I don't know.
SAO PHAL NISEIY: As an architect, what do you think about public housing design?
TANG SOCHET VITOU: When we talk about affordable housing, it normally refers to housing complexes built and designed for low-income people. It doesn't mean the quality has to be low or poor. As an architect, I believe designs should be very creative, of good quality and with a good living environment for those who reside there. What I want to stress is that it has nothing to do with poor or rich people. It's about our morality and responsibilities as architects to create quality living environments for the people.
SAO PHAL NISEIY: What do you think about current climate- resilient designs in Cambodia?
TANG SOCHET VITOU: There's been talk among local communities and NGOs about climate-resilient housing and living environments that respond to climate change. This kind of idea is important, and we know the issue of climate change is coming. But when talking about climate change, it's still abstract for many people. Not enough information is provided to make people understand what actually happens and why they need to focus on climate-resilient housing designs. They only take action if they are affected by the impact. I'd say it requires a lot of work by government agencies in partnership with the private sector to achieve the idea.
​
Related Articles