European Parliament Calls for Sanctions on Cambodia, Government "Dismayed"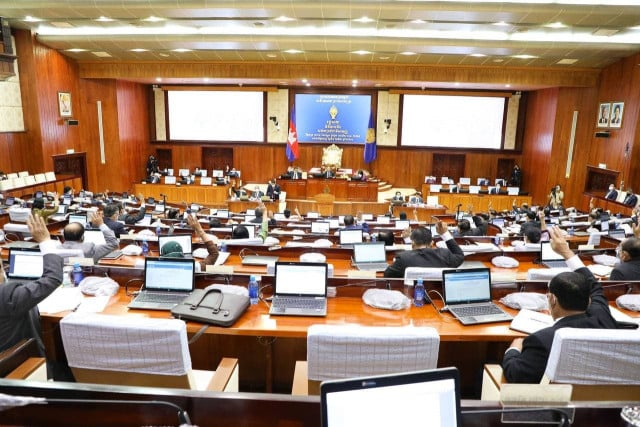 Gerald Flynn and Phoung Vantha
March 17, 2021 9:51 AM
As European and Cambodian parliamentarians exchange bitter words over the possibility of sanctions, the efficacy of sanctions—targeted or otherwise—is questionable, analysts suggest.

PHNOM PENH--The National Assembly of Cambodia has today, on March 17, issued a response to the European Parliament who voted overwhelmingly in favor of tougher sanctions on Cambodia, saying that the National Assembly "took note with utter dismay" in response to the Europeans' resolution.
This comes after 610 European parliamentarians passed a non-binding resolution against Cambodia, accusing the Cambodian government of creating a one-party state and calling for the international community not to recognize the Cambodian People's Party (CPP) as legitimate rulers due to concerns over election integrity.
The resolution, which members of the European Parliament voted for on March 10, lists no less than 15 actions taken by the Cambodian government, including the judicial harassment of the Cambodia National Rescue Party's (CNRP) leadership and members, the lack of due process required by both Cambodian and international laws, along with the imprisonment of unionists, activists and the repression of civil society in Cambodia.
"[S]ince 2017 the Government of Cambodia has undertaken a series of repressive actions curtailing political participation and electoral rights in the country, moving away from the path towards democracy and creating an authoritarian state," the resolution read.
The resolution notes the dissolution of the CNRP by Cambodia's Supreme Court, adding that the 2018 national elections "failed to meet the minimum international standards for democratic elections."
This, European parliamentarians agreed, allowed Prime Minister Hun Sen's CPP to create a de-facto one-party state, which has then set about levelling "politically motivated charges of incitement, plotting and attacks against the state" at no less than 137 former CNRP members.
Concerns were also voiced over the sentences handed to Sam Rainsy, Mu Sochua and a host of other CNRP leadership figures, who were tried in absentia and banned from returning to Cambodia from exile in order to defend themselves in court.
The resolution then went on to list 25 demands, 17 of which were directed at the Cambodian government and called for an end to the harassment of political activists, environmentalists, journalists and other groups persecuted under Hun Sen's latest crackdown.
European parliamentarians wrote that they were "appalled" by the deteriorating rights situation and democratic backsliding in Cambodia, even going so far as to say "the elections were neither free nor fair and the CPP should not be considered the legitimate ruling party of Cambodia."
They called for a repeal of repressive legislation, especially laws rushed through during the COVID-19 pandemic, an annulment of the lengthy sentences that were handed down to CNRP leaders, along with urging Hun Sen's government to stop abusing the rights of the Cambodian people.
Unless "democracy is restored," the resolution also advised that the EU should not accept Phnom Penh as the location for the 2021 Asia-Europe Meeting Summit, which has been postponed for a second time and is now scheduled to be held in the final quarter of the year.
But most significantly, European Parliament voted to call for the CNRP to be restored their political rights, for EU member states to end bilateral aid to the Cambodian government—focusing instead on civil society organizations—and for the European Council to take a formal position on the human rights and democracy situation in Cambodia.
The parliamentarians also said they believe "that targeted sanctions, including travel bans and asset freezes, against Cambodian leaders and their economic interests are overdue" and requested restrictive measures to be brought against those responsible for the political and civil deterioration in Cambodia.
Cambodia Rolls Out Well-Worn Refrains
While the resolution is non-binding, it appeared to affect CPP spokesperson Sok Eysan, who railed against the European resolution stating that Cambodia is an independent and sovereign state, not a colony of any country.
"Deciding and ordering Cambodia to follow suit is a violation of Cambodia's independence and national sovereignty, which is contrary to the UN Charter," Eysan said, adding that no foreigners have the right to force the government to do anything.
"Wanting the former leader of the opposition to join the 22nd commune elections and the 23rd parliamentary elections is an intention to violate Cambodia's laws and the courts, as well as the independence and sovereignty of Cambodia," he added.
Similar sentiments ran throughout the National Assembly's official response which was released on March 17, which reiterated Cambodia's independence and sovereignty—a well-worn refrain used by the government when faced with international criticism over its human rights record, democratic backsliding and silencing of dissent.
The National Assembly also stated that the mass trials being conducted against CNRP leaders and members are "in full conformity" with Cambodian law, but went further by seeking to invoke the memories of the genocidal Khmer Rouge regime—complaining that EU member states previously embargoed "an administration that helped save the Cambodian people," in an apparent reference to Hun Sen's administration in the 1980s.
Lastly, the National Assembly claimed that "democratization in Cambodia is thriving and irreversible," going on to once again refer to the number of political parties established—none of which hold any seats in the country's legislative bodies—and the range of media outlets, many of which are owned by Hun Sen's family and friends.
"Quite clearly the European institutions are quite tired of PM Hun Sen's rights abuses and his continued obstinacy," said deputy director of Human Rights Watch's Asia Division, Phil Robertson. "Otherwise the European Parliament would not have acted as strongly as it did with this resolution."
He noted that the European parliamentarians' call for sanctions could mean either a return to debates regarding Cambodia's access to the EU's Everything But Arms (EBA) trade scheme—which the European Commission decided to partially withdraw Cambodia's access to last year over rights abuses and democratic backsliding—or it could mean more targeted sanctions.
"[T]he new EU global human rights sanctions are ready made for top political and military leaders in Phnom Penh who have forged their power on the backs of human rights violations done for Hun Sen and the ruling Cambodian People's Party," Robertson wrote in an email, adding that Cambodia's refusal to meet any of the EU's demands over EBA access only heighten the risk of sanctions.
Sanctions Not Guaranteed
But while the threat of sanctions has been issued by the European Parliament, similar threats that have arisen from within US legislative bodies have also been made, so whether the European Commission—the bloc's executive branch—will follow through with parliament's requests remains to be seen.
A spokesperson from the European Commission did not respond to requests for comment on the matter, but the commission's decisions have always been difficult to predict, explained Sebastian Strangio, author of Hun Sen's Cambodia and In the Dragon's Shadow: Southeast Asia in the Chinese Century.
He pointed to the EU's recent adoption of a stronger stance towards Cambodia, citing the partial revocation of EBA access and numerous strongly-worded statements, but said the call for sanctions would be balanced by social, economic and political interests.
"I wouldn't be surprised if we did see some limited action, targeted sanctions against key members of the Cambodian security forces and the CPP elite, as we've seen from the US," he said, adding that the EU would need to weigh up how to isolate Cambodia's leadership without creating negative repercussions for the Cambodian people.
US sanctions, so far applied to three Cambodians over rights violations, have not changed the Cambodian elite's calculations, Strangio said, noting these calculations are more focused on internal rivalries and preserving the party's grip on power.
Instead, the CPP—he said—see Western powers' calls for democracy in Cambodia as "moral flags of convenience" that Cambodia is no longer beholden to heed in the wake of China's growing influence and financing of CPP interests.
As such, many observers have previously warned that sanctions would push Cambodia further into China's sphere of influence.
"I think that any imposition of sanctions on the Cambodian government will only deepen that sense of siege and resentment that's run through Hun Sen's career since before the Cold War and it will make things difficult," he said.
The efficacy of sanctions, Strangio added, depends on what is the desired outcome of their imposition.
The CPP's "Siege Mentality"
While sanctions can change behavior, Strangio expressed concern over the ability of sanctions to change the Cambodian government's mentality, which he said is influenced by a perceived set of double standards.
The EU-Vietnam Free Trade Agreement, for example, came into effect in August 2020, the same month that restrictions to Cambodia's EBA access began to apply, despite the human rights records on both sides of the Cambodia-Vietnam border.
This, Strangio suggested, had been compounded by CNRP figures lobbying Western countries for tougher sanctions on Cambodia, which he said has left the Cambodian government in a paranoid state, fearing regime change—a point underpinned by government-owned media's oft-predicted threat of a "color revolution."
"I think they sincerely fear this stuff, so while sanctions could see them [the Cambodian government] release some prisoners or bring about some temporary reforms, it's not going to change their fundamental determination to expel their enemies from the political landscape to consolidate their hold on power," he said.
"This is a very paranoid leadership that is still wrapped up very much in the struggles dating back to the end of the Cold War, as is the opposition," Strangio observed. "So sanctions are in some sense an indication of how little leverage the EU has in Cambodia."
He tied this to the rise of China, a theme Strangio explored extensively in his latest book, noting that Southeast Asia's ideological terrain has shifted as a result.
"Governments now, corrupt or otherwise, have a greater degree of choice in terms of how to govern their countries—in many ways that's not a good thing—as the liberal consensus, which the EU clings to, is no longer a reality," he said. "Cambodia's right on the edge of that tension between that consensus and whatever's coming in its wake, which is probably going to be more arranged around principles of sovereignty."
Related Articles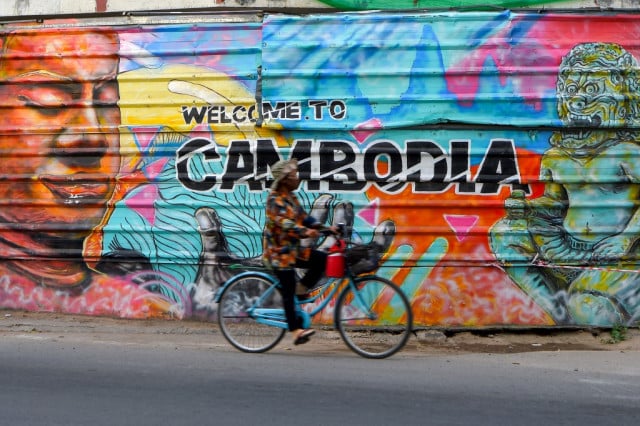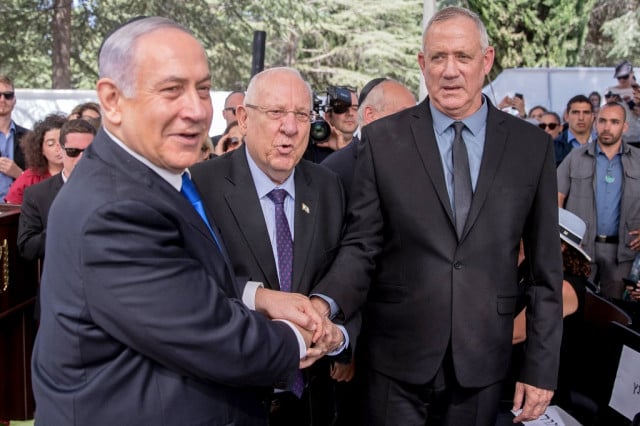 September 20, 2019 9:55 AM