South Korea to Fund New Bridge Connecting Chroy Changvar to Svay Chrum Commune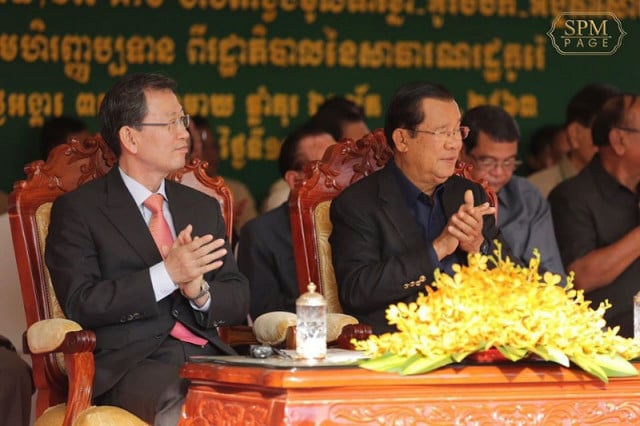 Hun Sen announces plans for new Cambodia-South Korea Friendship Bridge but no date set.
Phnom Penh--Prime Minister Hun Sen said today that he has requested South Korean assistance to construct a new bridge crossing the Mekong River. This, he said, would connect the capital of Phnom Penh with the east bank of the river.
This announcement came while he addressed the audience during a groundbreaking ceremony for the improvement of National Road No. 2 and No. 22 in Phnom Penh. The improvement of two national roads is a joint project funded by South Korea and the Royal Government of Cambodia, with the Ministry of Public Works and Transport estimating repairs will cost $56 million.
The request was made last week during a meeting with South Korean President Moon Jae-in in Seoul, Hun Sen said.
"I spoke personally to President Moon Jae-in and told him, Cambodia already has the Cambodia-Japan Friendship Bridge and the Cambodia-China Friendship Bridge, but there is no Cambodia-Korea Friendship Bridge yet," he recalled, adding that he proposed South Korea assist in the construction of a new bridge.
Noting the importance of the bridge for people in the area, he stressed that the new bridge would span across the Mekong River. This will connect Chroy Changvar district in Phnom Penh to Svay Chrum commune in Kandal province, which is located immediately next to the Areyksat area opposing Phnom Penh. This, Hun Sen estimates, will cost between $40 million to $50 million.
Regarding the funding, Hun Sen suggested that some of $700 million infrastructure loan provided by South Korea over the course of 2019-2023 will be considered for use in constructing the bridge. He continues that head of Korea International Cooperation Agency (KOICA) will visit Cambodia in late February to inspect the site for constructing the bridge.
Currently, the ferry is the shortest and common mode of transport for commuting between the capital and Areyksat. Beyond this, the only other way to reach Areyksat is to cross the Prek Tamak Bridge, north of Phnom Penh.
Related Articles