Student Takes the Lead with Motivational Vision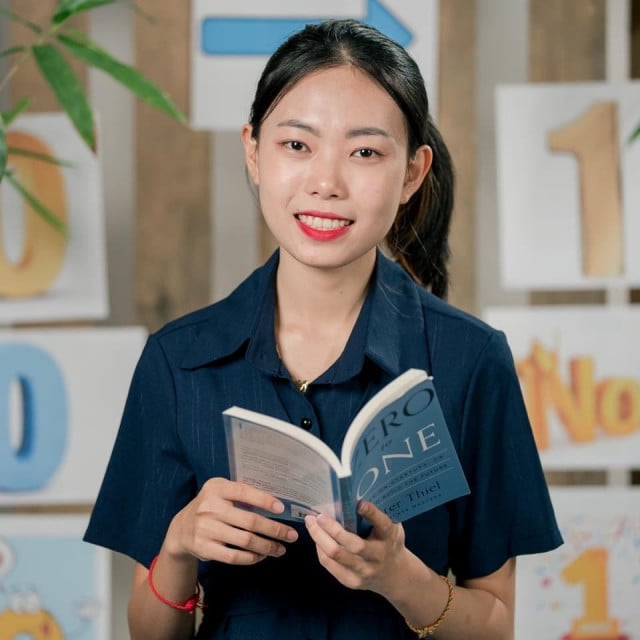 Study content aims to support young people

PHNOM PENH--Senior student Seng Rothsethamony has embarked on a quest to motivate young people – especially women – by sharing her experience and study tips, in particular during the COVID-19 pandemic.

"I am inspired to create content and videos to help students to study effectively and read more books because I understand that not many people are willing to make educational and motivational content because people in social media tend to be more interested in entertainment content," she said.

Rothsethmony, 19, who is majoring in global affairs with a minor in economics at the American University of Phnom Penh, started creating educational content in May 2020.

Her work is aimed at inspiring and encouraging other students, especially in high school, and has been gaining acknowledgment ever since. She remains active in the field besides her hectic university schedules.

She wants to make good use of social media in terms of drawing students' attention to education as much as to entertainment.

She says she has had support and motivation from her family, friends and people around her, and came up with the idea of being an educational content creator to help pass on the motivation and inspiration to others.

"I want to contribute back to society, especially students who are the same age or younger, as much as possible because I understand in this journey that studying is not easy," she said.

She likes reading, making book review videos, researching and writing. Her videos include study tips, educational experiences, guides to look for scholarships, and inspirational strategies.

"Studying is a method that we can consume knowledge and develop ourselves to be a better version of ourselves. Therefore, I still want to produce more content and videos to help students to deal with their difficulties while learning," she said.

She still finds time for self-development by taking part in internship and exchange programs in NGOs, ministries and embassies.

With great responsibilities comes exhaustion, and there have been times she wanted to quit. However, despite the fatigue, she always looks forward to the excitement of a better version of herself.

"There was actually a time when I got lost. I got lost in finding my true self or trying to go forward. However, I kept going because I believe that there is something fascinating for me to learn more and go for it," she said.

"I always believe that if I do these few things now, I will be able to do more things in the future."

Personal experience and strategies

She divides her schedule into weekdays and weekends, based on the priority and the importance of each task.

On weekday mornings, she focuses on video shooting, designing educational posters for the contents in her Facebook page, and other works related to a digital marketing agency or bookstore. In the afternoon, she has university classes and does reviews and assignments.

The weekends are for finishing all remaining tasks while preparing for the following week and doing what she loves, including writing a book, researching and taking a break from studying.

In the weekday and weekend evenings, she expands her knowledge for self-development by watching business videos, learning online courses, attending online workshops from the United States, and reading more books.




During the pandemic, when students found it challenging to study, Rothsethmony shared strategies to keep herself concentrating on her studies, emphasizing three simple, effective tips that she applied. These include making plans and to-do lists, studying with groups of friends in Messenger or Telegram groups, and setting a deadline before the actual deadline.

Rothsethamony says she loves doing what she does but is glad that some time remains to be with her family in the evening.

"I would say that the challenge is that sometimes I do not have enough time for my family because I can only have dinner with my parents," she said.

"But I still enjoy doing these because I know for sure that I am doing something that I love and something that I am passionate about."

Rothsethamony also wants to contribute to the reading culture in the country as well as to encourage youths to read more by writing her first book about motivation.

"I was inspired through reading a motivational quotes book from a foreigner, and I planned that someday I will compile and write motivational quotes for others too," she said.

Written since March 2020 and published in Nov 2021, the book is about motivational quotes and has space for readers to write about the issues they face and become stronger by themselves with the book as their friend along the journey.

"I understand that it might be difficult for us sometimes when we are on the journey of following our goals. Sometimes, we lose motivation, and we need someone to stay by our side and motivate us," she said.

"Therefore, I would love to design this motivational book for each and every one of you to enjoy reading together when we face issues and when we lose motivation."

Each part was slightly different, but the book is a step-by-step guide to increasing reading productivity and writing capability, she said.

"In part 1, we have motivational quotes for readers to read while readers can also write daily goals and a diary. Then, we move on to the next step in part 2, which is to have plans and good habits for readers as self-development. Then, in the last part, it's all about the readers because they can write about their daily goals and diary."

The writing period during the pandemic was not a challenge because she had more time to focus on the book. Her favorite part is to see how readers feel about it.

"I feel so excited and delighted to know that readers will read these motivational quotes and make them smile, and readers will also be able to share their diary or goals in this book," she said.

"I understand that most of the time, there are some readers who say they cannot finish a book. However, I hope that this book can help the readers to finish quickly because the motivational quotes are short."

She says the book is for readers when they feel sad, happy or demotivated. While reading the book, they can also write down how they feel about the issues they read about.

"This book will become one of their friends that will always be there for them."

Because one reason for writing the book was to promote a culture of reading among young people, she plans to donate a quarter of the total of 1500 published copies to events and libraries.

"You can find my books at the National Library of Cambodia, and I also donated some to a Model United Nations Meeting event. I have already prepared to donate 100 copies along with other necessary stationery to 100 rural orphanage students," she said. "I am actually looking forward to finding the orphanage now."

Special message for other young women

"There is a statement saying, 'women are only to stay at home doing chores', but why would we make that become reality?" Rothsethamony said.

"I believe that in both academic and real life, women can also participate and achieve what we want, so please do not give up or listen to others that women cannot do it. We can, and everyone with any gender can accomplish our goals," she said.


Related Articles