Students in Svay Rieng Learning Through Farming at School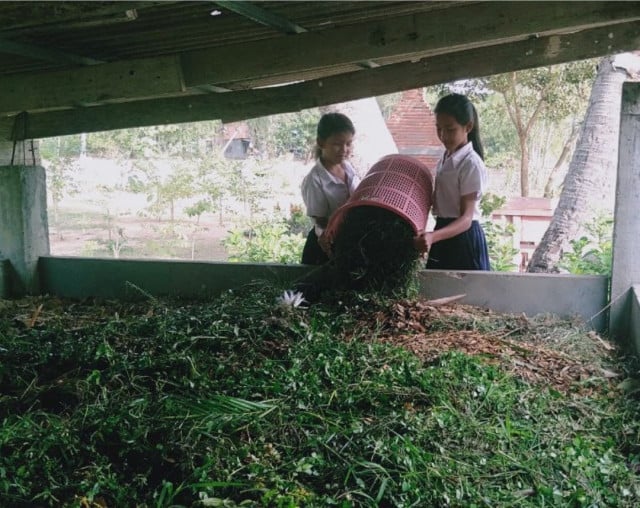 Phat Dane and Sao Phal Niseiy
January 11, 2021 10:44 AM
Along with developing life skills, primary school students in Svay Rieng Province are learning by doing at the school's farm, which experts hope will cultivate environmental education.
PHNOM PENH--A primary school in Svay Rieng Province has been growing its own vegetables and fish on the premises in an effort to support the nutritional needs of students and to raise awareness of sustainability.
Located in Svay Kngou Village, Svay Chrum Commune, Svay Chrum Primary School is among a number of schools in Cambodia that have implemented the school gardening project.
Svay Chrum School Principal Chan Samon said that the project has been carried out for eight years already and all students from Grade 4 to Grade 6 are required to participate in the learning process as part of a life skills curriculum. The project revolves around growing vegetables, producing organic fertilizer and rearing fish.
"The purpose of getting students involved in agricultural works is to give the pupils a chance to explore and learn more about the practical knowledge and daily life activities including growing plants and participating in environmental conservation," Samon said, adding that currently his school keeps up to 400 square meters of land and three ponds for the gardening activities.


He said that by implementing this project, students and teachers at his school are also able to gain direct benefits as they are allowed to get school-grown vegetables and fish for their own consumption.
In order to ensure sustainable practices, Samon explained that the school has to keep a certain amount of the produce for sale.
"Partially, the fish and vegetables are sold at market and the money we get from the sale will be used to buy new seeds," he explained.
In addition to the gardening, in order to educate students on the importance of environment, they are also required to partake in regular trash collecting activities.
Nick Beresford, resident representative at the United Nations Development Programme (UNDP) in Cambodia, concurred that environmental education is significantly growing in primary schools nationwide and offered his praise to Svay Rieng Province's schools for their effort in supporting environmental education among students.
"Cambodia is moving towards an eco-friendly generation, so educating school children to love nature and live sustainably is welcoming and highly relevant," Beresford said, adding that the pro-active leadership in schools is admirable.
According to the Council for Agricultural and Rural Development, only 70 percent of schools across the country have gardens and most of them have not been capitalized on.
However, according to Samon, when the school gardening program was first introduced, students' parents and guardians were not happy due to the fact that they didn't understand the significance of the environmental program.
"Initially, some parents said their children come to school to study not to do agricultural works. And some teachers also didn't feel content with the program because they thought they only have a role to teach [in classrooms]," Samon stressed.
But with the school's facilitation and explanation, both parents and teachers are now able to comprehend the value of gardening work as it is a part of the real life and practical education, he added.


Replicate the School Gardening Project Nationwide
When asked if this environmental curriculum should be further promoted at schools, Nick responded that UNDP Cambodia has also been requested by the Ministry of Education to provide technical assistance for developing a complementary teachers' manual for climate change and environmental education.
"This teachers' manual, which consists of three main chapters, such as environment and nature, environmental pollutions and sustainable living, is designed to improve life skills for primary school students," Beresford said.
He added that the program is called project-based learning activities that teachers will guide students in every Thursday of each month, preferably outside of the classrooms. Some learning exercises, he continued, will of course interconnect with the Svay Rieng School principal's school gardening activities.
"This is a great opportunity to promote that school initiative and that should be replicated nationwide," Beresford added.
As primary school students are fast learners and nurtured by the surrounding environment through the project, he went on to say, they will be able to interact with a new learning environment to conceptualize the environment and climate change related concepts.
This education, Beresford stressed, will help bring about much-needed behavioral change in Cambodia with regards to how different generations engage with the environment as students will bring the lessons learnt at school home to their families.
"Basically, they can learn by doing, for example how to make home-based composts by making it themselves," he said. "Likewise, they could learn about different types of waste by separating waste in their school and observe the waste flow chain and its impact on land, rivers, animals and human health."
Related Articles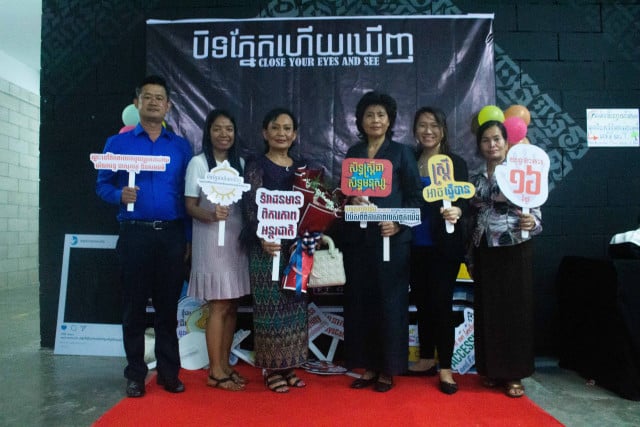 December 8, 2022 11:00 AM