The COVID-19 Testing Lab in Siem Reap Province Set to Detect Both Disease and Variants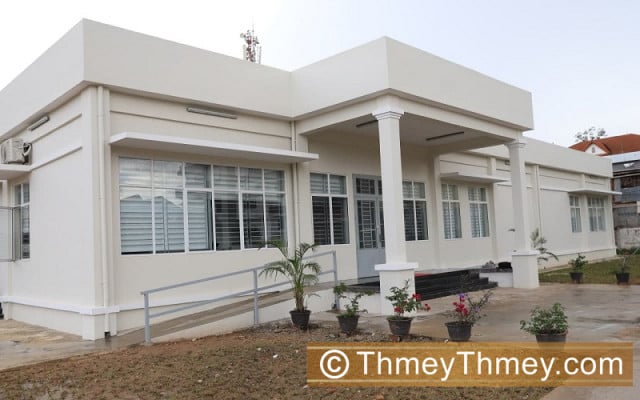 Meanwhile the vaccination campaign goes on in the country, with some people getting a third dose
SIEM REAP--The COVID-19 Testing Laboratory in Siem Reap Province, which opened on Aug. 23, will soon be able to test for both the coronavirus and its variants such as the Delta variant.
Kros Sarath, director of the Siem Reap Provincial Health Department, said on Aug. 28 that the laboratory has received equipment specifically designed to test for the Delta variant and this, through funding from the United Nations Office for Project Services (UNOPS).
The machine has the same capacity as the machines in Phnom Penh, he said. However, it may take a few days before it can be used. "We have the testing machine for the new Delta variant, but we are not able to run it yet: The machine lacks apparatuses like ink and so on," he said during a phone interview.
The testing laboratory in Siem Reap City is one of three provincial laboratories that the Ministry of Health is opening this year along with laboratories in Battambang City and Sihanoukville.
According to the Ministry of Health, setting up the laboratory in Siem Reap City, which cost more than $300,000, will bring COVID-19 testing services closer and timelier for people in the province.
The laboratory, which is located at the Siem Reap Provincial Referral Hospital and was inaugurated on Aug. 28, has the capacity to test for the coronavirus roughly 1,000 samples a day.
As of Aug. 28, Siem Reap Province had recorded 7,717 cases of COVID-19, the health authorities said. Among them, 7,020 patients have recovered and 614 patients remain hospitalized. So far, the coronavirus has claimed the lives of 83 people in the province.
At this point, 180 Delta variant cases have been identified, Kros Sarath said. Most cases are contagious, but this can be controlled since people have been vaccinated before the arrival of the Delta variant, he said.
As a whole, the situation in Siem Reap Province seems to have recently improved, Sarath said. The number of new infections has decreased while the number of people recovering is increasing, he said. Moreover, there are fewer infections in areas where there used to be a high level of infection, he added.
As COVID-19 cases keeps on being detected, the vaccination campaign continues
Cambodia on Aug. 28 reported that 438 new COVID-19 cases had been identified, which included 115 people who had returned from abroad. Meanwhile, 345 patients have made a full recovery and been discharged from hospital.
Since the start of the pandemic in early 2020, a total of 92,208 COVID-19 cases have been reported in Cambodia with 88,119 people having recovered. The disease has claimed the life of 1,881 people in the country.
As of Aug. 28, a total of 10,440,004 people, including 1,427,552 children and adolescents, had received their first dose of the vaccine while 8,342,770 people had both doses. So far 189,102 people have also received their third dose.
Additional reporting by Teng Yalirozy
Related Articles