The French Institute Ends 2022 with Dance because of Cambodians' Love of Dance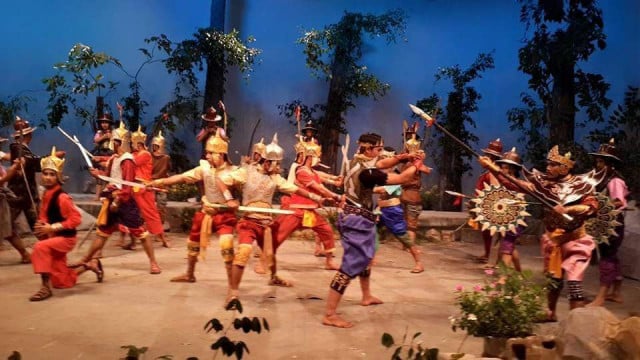 December 11, 2022 12:05 PM
PHNOM PENH — When the French Institute staff looked into the best way to end the year, no one hesitated: It had to be dance.
"There is a true yearning for dance in Cambodia, which is unusual," said Valentin Rodriguez, cultural attaché of the French Embassy in Cambodia and deputy director of the institute. And this yearning applies to about all forms of dance whether Khmer classical dance or folk dances, he said.
So over two weekends, which started on Dec. 8, the French Institute is presenting Khmer classical dance, Bassac theater as well as French contemporary dance performances featuring leading Cambodian and French artists during an event entitled "Danse comme je bouge," or dance as I move.
The event also included on Dec. 10 a demonstration of Bokator given by the Cambodia Kun Bokator Federation. This was a way to celebrate this Khmer martial art going back centuries to the Angkorian era, which was inscribed on the UNESCO List of the Intangible Cultural Heritage of Humanity on Nov. 29, 2022, Rodriguez said.
On the first weekend, artists from the Royal University of Fine Arts staged "Vireak Neary Banteay Srey." This is the legend of the Banteay Srey temple at Angkor according to which women took over and fought for their country after their husbands had been killed or made prisoners by the enemy.
And on the second weekend, Khmer classical dancers from the Princess Buppha Devi Dance School in Phnom Penh presents an excerpt from the ballet "The Legend of Apsara Mera" about the mythical founding of the Khmer kingdom, which the late princess had choreographed.
Khmer classical dancers from the Princess Buppha Devi Dance School are shown during a performance. Photo provided by the French Institute
As for the French dancers, the institute invited for the first weekend leading artists who are expressing on stage the challenges that people face to cope with today's world. Leila Ka, who started in dance by the way of hip hop, interpreted Pode Ser—a Portuguese expression meaning maybe—and Alexandre Fandard, who is a visual artist as well as choreographer, presented "Comme un symbole" (like a symbol).
And on the second weekend, Loïc Touzé—a renown dancer, choreographer and teacher who has worked with musicians, actors, visual-art artists as well as circus artists—will give a "danced conference" during which he will speak and dance the life of a dancer and history of dance in "Je suis lent, une histoire de la danse dansée, Loïc Touzé" or I am slow, a history of dance danced by Loïc Touzé.
French dancer Leila Ka is photographed as she is performing. Photo: Yoann Bohac
As the country truly emerged from the COVID-19 pandemic in 2022, the French Institute was able to relaunch activities and mark its 30th year in Cambodia with a program close to pre-pandemic times. Among the most recent events, there were conferences to mark the 100th anniversary of the late King Norodom Sihanouk who was born on Oct. 31, 1922, and the 13th international Photo Phnom Penh festival, which took place in October and November 2022 at several locations throughout the capital.
By the end of the year, the institute will have greeted more than 100,000 visitors in 2022, Valentin Rodriguez said.
Regarding 2023, plans include setting up a major, permanent stage in the gardens of the French Institute that would make it possible to accommodate major productions, Rodriguez said. Since there is a limited number of stages in the capital, this will meet a need, he said.
For more information on the performances staged during "Danse comme je bouge," or dance as I move:
French: https://institutfrancais-cambodge.com/category/culturel/spectacles/#/
Khmer: https://institutfrancais-cambodge.com/category/culturel-kh/spectacles-kh/?lang=kh#/
Admission is free.
A Cambodian athlete demonstrates a movement of bokator, an ancient Khmer martial art. Photo: Sovanna Kem
Related Articles