The Kampot Provincial Police Is Investigating the Death of a Man Killed during an Incident with Police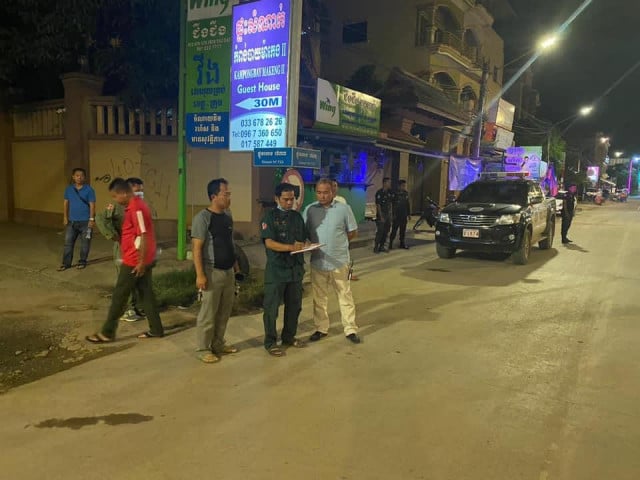 Phoung Vantha
November 5, 2020 10:45 AM
The police authorities were planning to send the case to court as early as end of day on Nov. 5
PHNOM PENH—The Kampot Provincial Police authorities on Nov. 5 said that a man was accidentally killed by police officers following a minor incident at a café in Kampot City.
Major General Mao Chanmathurith, police chief of Kampot Province, said that the case was under investigation and that three police officers involved in the incident have been detained for questioning.
"I'm working on that case," he said during an interview on Nov. 5. "Maybe it will be sent to court this evening."
According to information posted on the Kampot Provincial Police Facebook page, the incident, which involved young men in their teens and 20s, took place on Nov. 2 in Kampong Bay South Village in Kampot City's Sangkat Kampong Bay.
This started when a young man walked into a café. He looked at a man who was with four others in that café and that man, taking exception, chased him out of the café.
The police report states that police officers arrived on the scene and tried to stop two of the men from leaving on a motorcycle. The two men hit a police motorcycle as they tried to flee, injuring the officers.
The police officers then fired their weapons and ended up killing one of the men: 29-year-old Mam Vibol.
Toeu Chan, the 17-year-old man the group of five men chased out of the café, was seriously injured in the head by them and is now in hospital.
In an interview on Nov. 5, Mam Dany, the father of Mam Vibol, said that he does not believe the police officers' explanation to the effect that they fired their guns at the ground. The police bullet that killed his son pierced his body, hitting one of his ribs on the left side and then a rib on his right side, he said.
His family being poor, Dany said that cannot file a lawsuit against the police officers. So he urged the Kampot Provincial Police authorities to investigate and take the case to court so that justice can be rendered for his family.
The others involved in the incident are 16-year-old Dhamma Kumpheak who has been arrested; 17-year-old Mat Ser Kirin; 17-year-old Sok Thea; and 20-year-old Ran. The four were believed to be riding on two motorcycles.
The Kampot Provincial Police commission has donated $4,500 to the family of Mam Vibol to help pay the costs of his funeral. Upon hearing this, some people close to the family said they hope that, now that money was paid, the police authorities will not just drop the investigation.
But according to Kampot Province Police Chief Major General Chanmathurith, this money was given, he said, "in a spirit of human beings [offering] condolences to the family of the victim."
Related Articles