The National Museum in In-Between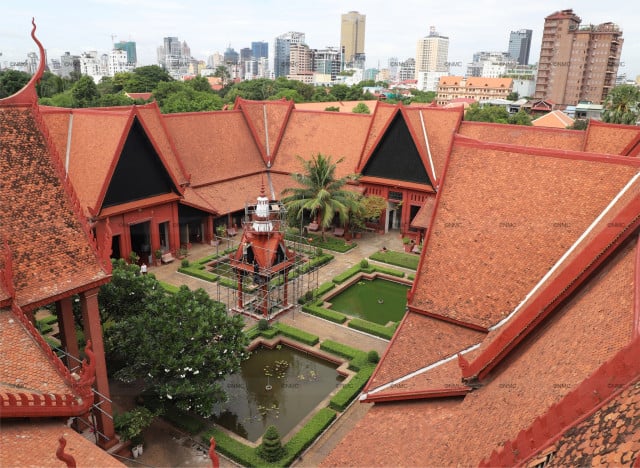 The recent return to Cambodia of 77 pieces of pre-Angkorian and Angkorian goldsmith's ware from the United Kingdom has very vividly showed the ongoing movement for the return to the country of important artifacts that are part of the national heritage.
Those pieces of jewelry, which came from the collection of the late Douglas Latchford who was accused of looting by the U.S. authorities, had, like many others, been taken out of the country in the midst of the chaos caused by the wars.
For example, in the wake of this restitution is expected, among a lot of 30 or so pieces, a monumental sculpture of Ganesha from the Prasat Bak temple in Koh Ker that may have been taken from there about 20 years ago.
This national collection's massive enrichment with artworks described as outstanding by experts provides an opportunity to consider the future of the National Museum whose 100 years celebrations were swept under the carpet due to the COVID-19 pandemic.
Being itself an element of the country's national heritage, the museum built at the beginning of the 20th century by its first director, George Groslier—one of the first Frenchmen born in Cambodia—provides today the picture of a sumptuous reminiscence of a past floating lazily on a perfectly flat, calm sea along buzzing shores.
A peaceful place providing an environment conducive to immersing oneself in Khmer culture and meditating on the prodigious human creativity, or attic filled with withered souvenirs, we wander in an in-between, as if this venerable building painted red had doubts about its future.
Reportedly not without reason.
Will the museum benefit from the move—that, as one has been hearing, will take place in phases—of the adjoining Royal University of Fine Arts (RUFA) to redesign and update the museum circuit?
Or will the space left vacant by RUFA be developed by a real estate developer, as one hears at times, leaving the museum without the capacity to expand its facilities.
Will the museum have its status of flagship of the national heritage conservation removed, left with only a part of it as other brand-new facilities on the outskirts of the center of Phnom Penh present major works in a museography with the latest techniques.
The pre-electoral period being, here as elsewhere, appropriate for the announcement of extensive works for the future, the vagueness regarding these issues should soon be removed, the more so that a ceremony should soon mark the return of the stolen artifacts to the country with great fanfare.
Related Articles