The "Wonders of Nature" Exhibition by Women Artists Celebrates the Earth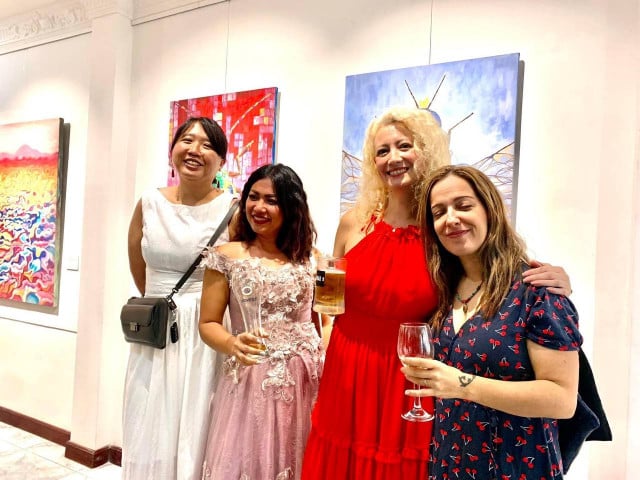 January 25, 2023 10:27 AM
PHNOM PENH — Four contemporary women artists have gathered to highlight the phenomenal beauty of nature ranging from a magnificent sunset to the glorious plumage of an exotic bird in an exhibition taking place at Meta House in Phnom Penh.
Entitling their series "Wonders of Nature," the four women artists—Chhan Dina, Sheery Dancona, Anita Keo and Emily Marques—could not see a better way to start the year than by celebrating the Earth in all its beauty, with each artist translating this into her own style.
Chhan Dina explained that she became passionate about Nature during a trip to Europe, which made her realize the richness and beauty of the green landscape, fauna and flora in which she had grown up in Cambodia.
"I want everyone to look around our country as well as other countries and see nature in Cambodia compared to that in other countries," she said. "So [for this exhibition], I did three paintings. One is inspired by a landscape in Ireland. Then when I went to Malaysia, I saw the many natural parks—such places for relaxation are hardly found in Cambodia." Her third painting is about Cambodia.
Each artist in the exhibition, which features around 20 paintings, depicted in they own styles some elements of Nature ranging from insects—whose role in Nature may at times be overlooked—to forests, water expanses, and animals such as buffaloes that artist Anita Keo chose to paint.
"Artists should be clear about the messages in their paintings that they want to convey to the audience," Dina said. "What and to whom do we want to show the paintings."


Paintings by artist Emily Marques. Photo: Chhan Dina
Women artists remain a minority in Cambodia
Generally speaking, and especially in Cambodia, there tends to be far less women than men artists, Dina said. Which is why she came up with the idea of starting 2023 with an exhibition featuring the work of Western and Cambodian women artists.
In addition to featuring a theme the four artists are passionate about, this was an opportunity for them to inspire young Cambodian women not to hesitate to become artists if this is where their passion lies, Dina said.
Passion is key to success, she said. And, as in any other field, it takes work. "We will help if they help themselves first," she said. "No matter how much we're trying to push, if they are not willing to push themselves, it'll be no use."
Students and young artists should look outside the box and not solely follow what they have learned at schools or in books, said Dina who was teacher for several years. Art involves broad horizons, she said.
The exhibition at Meta House, which is located at 48 Street 228, in Phnom Penh, ends Jan. 29.


Painting by artist Chhan Dina inspired by a scene she saw in Ireland. Photo: Chhan Dina.
Related Articles