Thousands of Volunteers Collect Plastic Trash in and around Tonle Sap Lake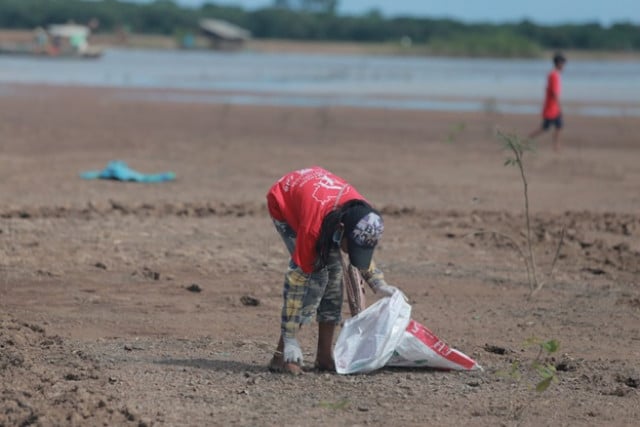 Phoung Vantha
December 4, 2019 2:38 AM
Siem Reap—An army of young volunteers took part in the 4-day Water Falling Festival Plastic Clean-Up in Siem Reap province during which more than 2,000 medium sacks of plastic waste were collected in and around Tonle Sap Lake.

The 4-day effort, which started on Nov. 28 and ended Sunday, was held on the theme "Clean Community, Clean Tonle Sap, Without Plastic."
"Water Falling Festival on the Tonle Sap lake is a campaign to push every individual in the communities around the Tonle Sap to be responsible for their plastic trash and reduce plastic [waste]," said Sea Sophal, director of the NGO2 Bamboo Shoot Foundation that organized the event.
This effort is also about making people aware, he said, "of the damage when [plastic waste] is just thrown [in the water] and that it will destroy the Tonle Sap's biodiversity systems."
This year, nearly 6,000 people—adults as well as children and teenagers—took part in the plastic-garbage collection effort around the Tonle Sap Lake, working in many communities including Sangkat Siem Reap, Sangkat Chong khneas, Mechrey floating village and especially Kampong Khleang community, Sophal said.
In addition to collecting plastic, participants at night watched "The Recycling Rooster," a puppet show/play modified according to Cambodians' needs, culture and storytelling tradition, and meant to make young people aware of the challenges involved and inspire them to recycle and manage plastic waste.
"Our events have been growing in number and participants at every event and this, with no publication or promotion of what we are doing," Sophal said. "It has happened through word of mouth at the local level, and support from the local village chiefs and monks."
Beyond encouraging people to manage plastic trash in and around the lake, the festival is a great way to celebrate the Tonle Sap and also enroll local authorities and people to get involved, he said.
Local authorities bring food and water to the young volunteers on their way to their next garbage collection site. Photo Phoung Vantha
The event has been supported by the NGO Ocean Recovery Alliance. Doug Woodring, managing director of the alliance, said that he decided to do so about six years ago when he came to Cambodia as a tourist and, as he travelled through the canals to the Tonle Sap Lake, was amazed at how much plastic was caught in the trees and bushes. He thought about ways this could be collected by local fishermen and communities, he said.
"Two years ago, we started our work on this topic, with our local collaborating partner, NGO2 Bamboo Shoot Foundation, and immediately had great success at the local level," Woodring said.
The Cleaning Tonle Sap lake campaign is held two times a year. The Water Falling Festival takes place in November before the Tonle Sap River water can brings plastic waste in the lake, which is Cambodia's "inland ocean." Then the Water Rising Festival is organized about six months later before the start of the rainy season so that plastic waste can be picked up on the lakeside and canal banks at low water level before rising waters push the plastic back into the village areas and pollute lake and river.
"If the waste is not taken away, then it is usually burned or put at illegal sites, or directly in the water," Woodring said. "This is not the villagers' fault as they have few options.
"So these water appreciation programs of our festivals and the Siem Reap River Celebration—created to complement the festivals, since the river runs into the lake—help them to link trash and waste to the health of their waters, and the impacts created," he said.
Plastic garbage was put in sacks small enough to be easily handled and transported. Photo Phoung Vantha
Plans are to expand this program to other locations along the lake, the goal being to enroll as many as 50 villages into taking part in the Water Falling and Water Rising festivals, Woodring said.
"We also will continue to work along the Siem Reap River, and appreciate the excellent local and provincial government support as we build this into something for the world to see, and for Cambodia to be so proud of: 'Bringing Pride to the Outdoors'," he said.
The challenges that Cambodia faces with plastic pollution in and around the Tonle Sap Lake is not unique: Many other countries, which do not have much infrastructure or budgets for waste management and recycling, face similar issues, he said.
Which is why it is important for people to avoid using unnecessary plastic items when possible so that it does not become waste in the first place—whether plastic bags, plastic straws, styrofoam lunch containers and so on, Woodring added.
And they work: Last year, more than 100 tons of plastic waste was removed from the Tonle Sap Lake in Siem Reap province, Sophal said.
A plastic-garbage collector team at work. Photo Phoung Vantha
Related Articles