Three agreements signed during Hun Sen's visit to Bulgaria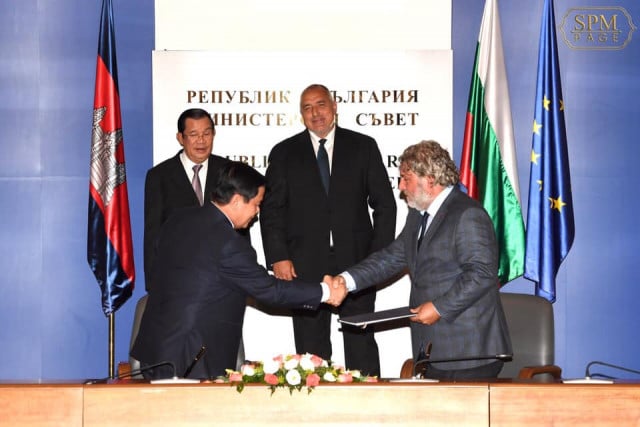 Torn Chanritheara
October 17, 2019 4:40 AM
Cambodia and Bulgaria have signed three agreements aimed at bolstering diplomatic and trade ties during Prime Minister Hun Sen's official visit as part of his three European countries tour.

Hun Sen's visit, which ends today, came at the invitation of his Bulgarian counterpart Boyko Borisov. Earlier, he had visited the Czech Republic and Hungary, where he attended the 3rd World Water Summit.
The three agreements signed on Wednesday include cooperation in economic, scientific, technical, and cultural fields, and a Memorandum of Understanding between Cambodia's National Institute of Diplomatic and International Relations and Bulgaria's Institute of Diplomacy.
Cambodia's Ministry of Commerce said on its Facebook page that the economic agreement was intended to upgrade ties and traditional friendship between the two countries.
"The agreement will cover many sectors in two countries' economy ranging from trade, investment, industry, health, e-commerce to construction, education, tourism, and others," the ministry said.
It added that the two countries also agreed to set up working group to implement the agreement effectively.
Trade volume between Cambodia and Bulgaria is relatively small. According to data from the Ministry of Commerce, from 2016 to the second half of 2019 the two ways trade between the two countries amounted to just some US$30 million. Of this amount, US$25 million were the total value of Cambodia's export to Bulgaria and US$5.5 million worth of import from the latter.
Related Articles