Three Geographical Products Set for Registration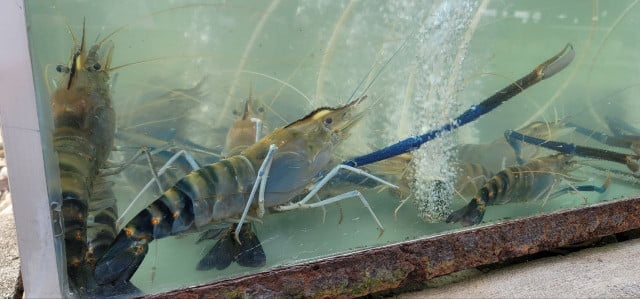 PHNOM PENH – Kampot-Kep Salt, Kampot-Kep Fish Sauce and Takeo Lobster are to be registered as geographical indications (GI) early this year.
Sok Hong, head of the geographical indication office, said registration of a GI trademark is important as it is a globally recognized intellectual property tool.
"Registration of GI is a source of identification and proves the quality and reputation of our products," he said.
Kampot-Kep Salt will be registered with assistance from Actions for Development and the World Intellectual Property Organization, whereas the registration of Kampot-Kep Fish Sauce and Takeo Lobster is supported by the ARISE Plus Intellectual Property Rights (ARISE+ IPR).
The Intellectual Property Department of the Ministry of Commerce is also collaborating with the United Nations Industrial Development Organization (UNIDO) to study and identify three other potential products for registration, Kampong Som Dried Shrimp, Koh Kong Dried Shrimp and Siem Reap Fish Prahok.
The ministry is asking to evaluate "Koh Kong Stone Crab" and to register "Battambang Rice", Sok Hong said.
For GI registration, five conditions must be observed.
The first is that the Geographical Indication Trademark Association, which is an association or interprofessional organization composed of producers, operators and traders, must register with the Ministry of Interior.
Second, a name for a GI product must only be used for the already-manufactured products, while the third is the products must go through an evidence-checking and retrieval system to ensure that all goods are sold under the brand name, geographical indication and manufactured from the designated area.
Fourth, the geographical area of the production area is the name of the geographical indication used by the producers and operators in the designated area.
Fifth, proof is needed of the relationship between the goods and their origin, based on natural, geographical, historical and human factors.
Since 2009, the Intellectual Property Department of the Ministry of Commerce has studied and identified 22 potential products as geographical indications, which includes Kirivong pepper, Ratanakiri coffee, Mondulkiri coffee, Siem Reap sausage and fish paste, Koh Dach silk, Banteay Meanchey silk, Stung Treng honey pineapple and grapefruit, Kampot durian and fish sauce, Pursat orange and Battambang rice.
GI products refer to the unique products associated with the earth, climate, technical achievements and talents of the farmers of a particular area.
GI refers to the name or mark used on a product or item in a specific geographical area and the quality of the reputation associated with the geographical location and as a source of identification, as well as a sign of quality, reputation and other characteristics.
Related Articles