Tips to Apply for the Chevening Scholarship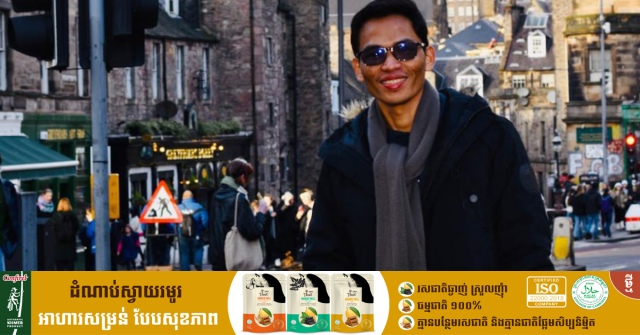 PHNOM PENH – Chevening Scholarship is a fully-funded scholarship by the United Kingdom government, which enables potential individuals to pursue one year of a Master's Degree in the UK. Over the span of 40 years, there are over 50,000 alumni coming from a diverse range of countries.
Sok Sarin, a Chevening scholar in 2022-2023, earned his Master's Degree in Technology-Enhanced Learning from the University of Huddersfield. He shares some practical tips for applying for the Chevening Scholarship and key messages to those who are skeptical about applying for this scholarship.
Rin Ousa: As the applications for 2024-2025 Chevening Scholarships are now open, would you please share your practical tips with students who are considering applying for this scholarship?
Sok Sarin: Given that the Chevening Scholarship is competitive, one practical tip is to start writing your applications as soon as possible. In doing so, you can have plenty of time to review and revise your four essays. When writing an essay, it is essential to provide concrete examples to support your arguments. Moreover, I would advise you to use some models to help structure your essays more concisely and comprehensively. Some like the Star or the SMART (Specific, Measurable, Achievable, Relevant and Time-Bound) models can be very helpful. Lastly, a clear schedule should be set for writing each essay. Back to my experience, after scheduling one week to complete an essay, I dedicated another week to reviewing and revising.
Rin Ousa: As every applicant is required to submit 4 essays on 4 different themes including leadership and influencing, networking, studying in the UK, and career plan, which essay did you find the most challenging to write?
Sok Sarin: I believe nothing is better than having a clear understanding of what the committee is looking for, and for me, the networking essay was the most difficult one to write. For this one specifically, it is important to not focus on too many examples. Only one or two examples should be included in this essay. However, it is essential to note that an example needs to be logical, concise, and impactful. To choose a proper example, I would suggest considering the one that is impactful, sustainable and beneficial for not only both parties but also the communities. Moreover, that example should also contribute to your career plan.
Rin Ousa: As a successful Chevening alumni, could you please share with us the essential tips for standing out in your interview among other candidates?
Sok Sarin: When it comes to the interview stage, you are one of the most qualified candidates for the scholarship program. However, it is vital for you to be well-prepared. In this regard, I advise three considerable points. First of all, you should read your four essays at least twice to make sure that you clearly understand them, especially your career plan essay. I would say the committee mostly asks you about those essays. For instance, you may be asked to give your experience of leadership. Secondly, it is good to practice as many times as possible to build up your confidence. Typically, you have approximately two weeks for the interview preparation, so it is long enough for you to practice. In this case, you can also search for some useful mock interviews on YouTube, and learn some tips and tricks from them. Lastly, doing at least one mock interview before the interview date is also crucial. To do so, you may ask Chevening alumni, your lecturers, or friends to be your interviewers. Their feedback will help you identify areas for improvement and make necessary revisions.
Rin Ousa: Once you arrived in the UK, what was your first impression of the country?
Sok Sarin: I was very impressed by the high-tech transportation options there. A variety of types of public transportation are made available to everyone.
Rin Ousa: After studying a Master's Degree in the UK, what are the incredible things you have learnt from there?
Sok Sarin: Given that UK universities apply a research-based teaching approach, I have consistently developed not only my expertise in education, and leadership skills but also academic research skills. Interestingly, I have undertaken a wide range of practical projects, enabling me to enhance my digital education skills and how to apply new digital tools for educational purposes.
Rin Ousa: How did Chevening shape your professional career and personal development?
Sok Sarin: I have developed my expertise in educational technology and academic research through the experience of undertaking a range of classroom discussions, projects, and assignments, as well as a dissertation. These skills are necessary for my short-term and long-term career plans.
Rin Ousa: Do you have any messages for those who are skeptical about applying for this Chevening Scholarship?
Sok Sarin: If you don't apply, your chance of getting such a prestigious scholarship is null. Therefore, give yourself a try first. Believe me, just put all of your efforts to focus on the four essays. If you cannot make it this year, try again next year.
Related Articles