Tonle Sap Lake Fish Face Extinction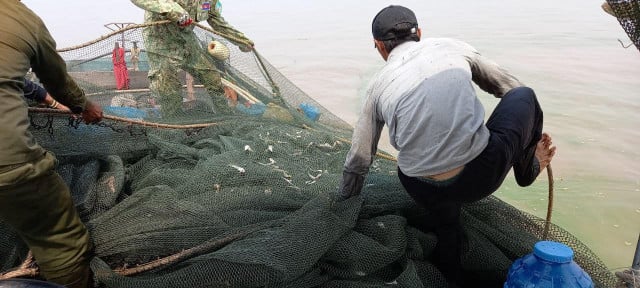 Sok Touch warns of illegal fishing risk
PHNOM PENH--Fish will disappear from the Tonle Sap Lake in two years if steps are not taken to end illegal fishing, Royal Academy of Cambodia president Sok Touch says.
He spoke after a second visit to the lake where last year he found that tens of thousands of hectares of flooded forest had been illegally occupied, including by government officials.
This month, he expressed grave concern over the destruction of fish in the lake by illegal fishing by people, including ethnic Vietnamese.
After receiving a report from Sok Touch last year, the government ordered the confiscation of flooded forest areas which had been seized illegally.
Returning this month, Sok Touch was worried by illegal fishing. Fishing during spawning and electric fishing posed a high risk of fish loss, he said. Using chemicals​ and pesticides for rice fields along the lake kills fish.
He also took aim at Vietnamese communities who fish in the river.
"You come to live in my land, you become rich in our nation, so why are you destroying fish in my river?" he said.
"You commit illegal fishing by the electric shock with the speedboat in a 60-square-meter area and drag the fish, while the small fish you turn to make fertilizer. How can I tolerate your actions?".
He said these activities can lead to the destruction of fish in the lake. He called for an end to all such activities to keep fish prospering.
"I can say that if we don't have any mechanism to prevent illegal fishing, the fish in Tonle Sap Lake will be extinct in the next two years." he said.
Touch pointed to laws that nets must be 3cm square or more and that netting in flooded forests or during the spawning season is illegal.
He questioned also the impact on the health of the Cambodian people after eating farmed fish raised from Vietnam, while Vietnam imports naturally raised fish from Cambodia.
"Why does Vietnam bring snakehead murrel to us and take our fish back to their homeland?
"Because our local fish are natural, while Vietnamese fish are raised," he said, referring to feeds mixed with chemicals to make fish grow more quickly than normal.
"Are we being harmed by this? I'm not instigating anything but we should have strict sanitation checks before importing for the health of the Cambodian people and so that they do not die from what they eat," Touch said.
Nao Thuok, director-general of the Fisheries Administration, said the fisheries sector has long played an important role for the people of Cambodia as a source of daily nutrition and income.
It has provided major employment to more than six million people, accounting for 45.5 percent of the population.
Nationwide, 10.5 percent of this is professional fishing and 35 percent subsistence fishing, including people living along the rivers around the Tonle Sap Lake and in coastal areas.
Related Articles