Tourism Ministry Seeks to Improve Hygiene as Sector Reels from COVID-19 Pandemic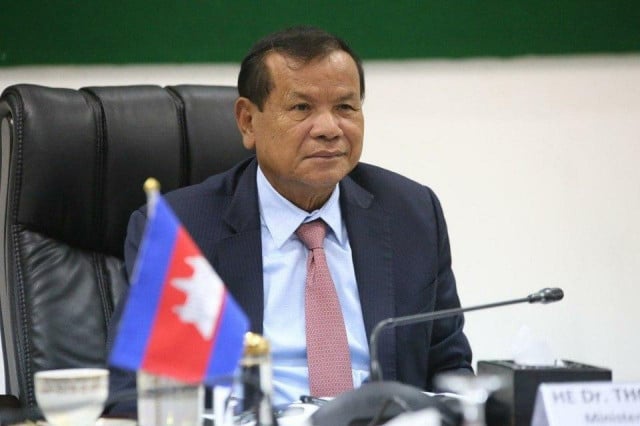 Phoung Vantha
May 12, 2020 8:07 AM
With international arrivals plummeting and thousands of jobs already lost, the Ministry of Tourism wants to focus on improving the hygiene and quality of tourism products.

PHNOM PENH--Cambodia's Ministry of Tourism on Monday urged all hotel and accommodation owners to be ready to improve their service quality to attract more tourism when the Coronavirus Disease 2019 (COVID-19) pandemic comes to an end.

In a bid to counter the expected reluctance of tourists to travel, the ministry said Cambodia's guesthouses, hotels and hostels need to use this time to reform tourism products. Specifically, the ministry said, a greater focus on hygiene is needed.

"In this context, national and international tourists will seek quality tourism services, especially with regards to hygiene, safety, services, and tourism products," the ministry said in a statement on May 11.

Chhay Sivlin, president of the Cambodia Association of Travel Association said that tourism faces a lot of problems during the COVID-19 period and that the lack of tourists has led a number of companies to close. Sivlin added that some tourism executives have since changed jobs—going instead into agriculture, real estate and online retail.

Cambodia's tourism industry was valued at $4.91 billion by the end of 2019, attracting 6.61 million international visitors—of which some 2 million were Chinese nationals. Contributing 12.1 percent to Cambodia's economic growth and providing jobs for more than 630,000 Cambodians, the Ministry of Tourism had every reason to be optimistic in January 2020.

However, since reporting its first case of COVID-19 on Jan. 27, Cambodia's once prosperous tourism sector has suffered badly. According to the Ministry of Tourism, international arrivals were down 60 percent in February 2020 compared with the same period last year. Things failed to improve in March 2020 which saw 65 percent decline in arrivals, welcoming just 223,400 visitors as opposed to 633,164 in March 2019.

In fact, the first quarter of 2019 saw 1.8 million international visitors arrive in Cambodia—Q1 of 2020 has experienced a 38 percent drop down to roughly 1.15 million, although tourism has suffered drastically due to COVID-19 globally.

A report published in April by the Ministry of Tourism noted that as of April 17, 46,369 people employed in tourism have been affected due to COVID-19. This figure does not include many of the informal vendors who rely on tourism for their businesses to function.

An estimated 282 hotels—roughly 27 percent of all Cambodia's hotels—have been affected, although the ministry's report does not clarify if these hotels have shut down or temporarily suspended operations.

However, the report does note that 405 guesthouses have closed in the wake of COVID-19, accounting for 15 percent of the total 2,643 guest houses in Cambodia. This has put more than 2,000 people out of a job and still there is no sign of things opening up any time soon.

There were 371 restaurants closed, almost 11 percent of the total 3,000 restaurants nationwide, which affected more than 3,000 employees. Furthermore, nearly 100 tour guides have suspended their licenses due to the COVID-19 pandemic.
While Prime Minister Hun Sen on March 31 introduced a three-month tax waiver for many businesses in the tourism sector, it remains to be seen when tourists will consider traveling again and whether the damage wrought by COVID-19 can be undone.

Ministry said that those hotel and accommodation owners can pre-assessment their accommodation's service quality by www.Cambodiatourismrating.org/kh.


Related Articles