Traditional Fishing Gears Adapted to the Diverse Fishing Grounds in Cambodia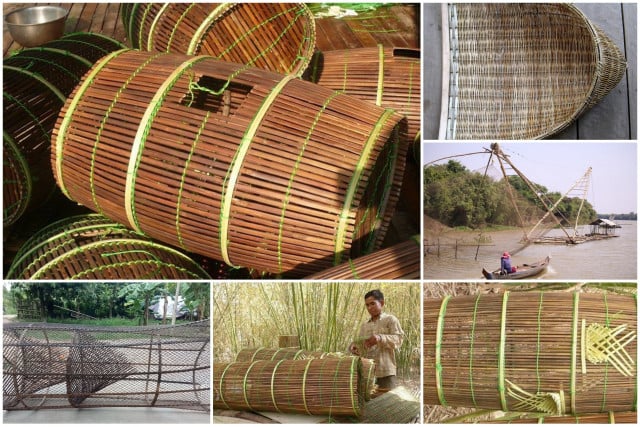 PHNOM PENH — For Cambodians in the countryside, fishing gears are among the most important, if not essential, equipment to ensure their livelihood. Apart from farming that is often their main source of income, they might catch fish, crustaceans, and other aquatic animals to add to their meals and also to sell at the market.
Cambodian traditional fishing gears are generally made of bamboo; they can last two to three years on usage. Their use has been progressively decreasing as new and more advanced types of gear become available. In addition, since the number of freshwater fish and animals has dropped, the new generations have been fishing less and less.
Here are nine traditional fishing gears that have helped villagers ensure their livelihood for a very long time.
Tru: This fishing gear shaped like a cylinder includes small woven bamboo plates with two valves on the side and expands outward at its mid-point. Villagers have often used this gear in bodies of water such as lakes or ponds with a depth of around half a meter. It is usually set up at locations with green vegetation and placed under water hyacinths, which are a type of freshwater plant. This ensures that fish or snails will seek shelter inside the tru and remain calm. Villagers usually install this gear and then wait several days before checking the catch.
Lorb: This gear is very similar to the tru with some minor differences. Instead of having a slightly expanded mid-structure, this gear is much more cylindrical with one end higher than the other or the same height. They can be set vertically or horizontally in order for the animals to get in. Generally, villagers use this gear in moderately flowing waterways such as small canals or flooded rice fields. Made of bamboo strips with layers of net, the lorb comes in a variety of sizes and names depending on the region of the country. This gear is rarely seen in small sizes. Its diameter can be from two to three "human hugs"—a traditional Khmer measurement that is generally used to approximate the circumference of an object—and its length varies from one to three meters. Today, people living next to lakes in the province of Kandal still widely use lorbs. This gear is used when water levels are at a depth of around three to seven meters. When the fishing season ends, people store this equipment so it can be used again the following season.
Leion: This is a type of fishing gear​ that is used to catch eels. The gear is made from cutting a section of bamboo and drilling a hole on its side with valves so that the eels can enter. The bamboo section is also thinned to reduce weight. Each section is no less than 1.5 meter in length. The leion is used in regions where hyacinths and water spinach can be found. It is placed at a depth determined by where eels live. This tool is rarely seen these days as eels are becoming scarce and the traditional technique of using it has become of less interest for the new generations of people.
Chhneang: This gear comes in three types. The first one is called chhneang dorng. It is made of bamboo plates with one handle for catching small fish, crabs or water beetles in deep water or flowing water. The chhneang ddai, which is also called chhneang chuncheat, is made of bamboo plates and used to scoop water to make a catch. The chhneang trang can also be bamboo planks with two handles to be used submerged under the surface of the water. This tool is often used to catch small fish, crabs or water beetles that live close to the surface in bodies of water such as ponds.
Angrut: This gear is made to facilitate catching fish, crabs or snails in lakes or flooded rice fields. It is made of small bamboo plates. Its shape closely resembles a semi-circle. It is mainly used to catch and cage animals. At this point, this fishing gear remains popular among villagers who live in areas with numerous ponds, streams or lakes.
Trung: This is a gear used to carry fish, crabs or snails collected in lakes or flooded rice fields. It is made of small bamboo rods or plates with an opening on its side to put in and take out things. The trung has wire attached to it that makes it easier for a person to carry on his back or side of his body while busy catching. Today, this gear is less used due to the equipment now available on the market.
Chhnuk: This is a big fishing gear that consists of a large area of net tied to four hanging wooden arms and carried by a boat using a reinforced supporting arm. It is used in deep water during the high fishing season. People can use a chhnuk four or five times in one fishing season. This gear is rarely seen these days.
Lorb Nor: This gear is used to catch fish in lakes with a water depth of less than one meter. It has bamboo platforms on each side to guide fish and other animals to the end of the platforms where they are caught. This gear is not used in seasons with high water levels. Instead, it is used when water begins to retreat.
Chuch: This cylindrical gear is made of rattan plates. One side of the gear is closed and the other side open to enable fish to enter. When a fish has entered, this one-way entrance does not provide an exit. Fish caught in this gear rarely escape.
Originally written in Khmer for ThmeyThmey25, this story was translated by Ky Chamna for Cambodianess.
Related Articles