"Troubled Water"— a Book Tells of Small Fishermen Families on the Tonle Sap Lake Losing their Livelihoods as Fishes Disappear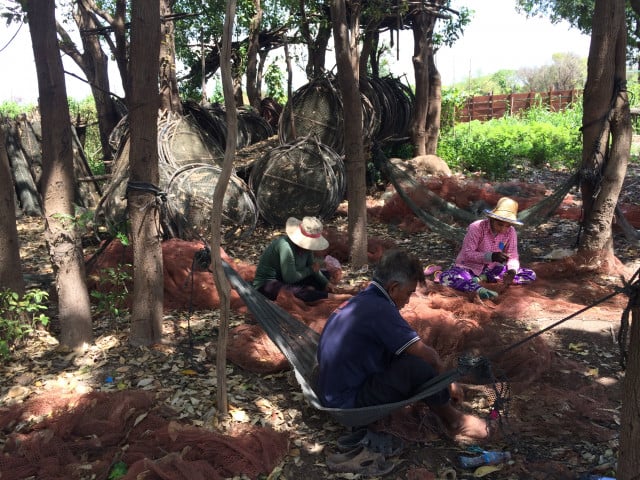 PHNOM PENH — "Pull the boat without leaving tracks; catch fish without troubling the water," says a Cambodian proverb mentioned in the book of U.S. journalist Abby Seiff who explored the plight of the local, ordinary Cambodians affected by the deteriorating situation of the Tonle Sap Lake.
Seiff is a journalist who was based in Southeast Asia for nearly a decade, and had worked in Cambodia for about eight years when she left the country in early 2019. She recently authored the book "Troubling the Water: A Dying Lake and a Vanishing World in Cambodia," depicting the rapid erasure of the long-held way of life of the local people who, until recently, had survived on the Tonle Sap Lake.
She started her reporting account in 2016 when there were a severe drought and a raft of wildfires. Traveling to the Tonle Sap Lake, Seiff became interested in the situation of the local people who lived off the lake that was being threatened.
"It seemed like there was no more fish," she said during an interview on July 15, 2022. "The people were really struggling to live off fishing. [There was] a lot of migration; people were going to work in the factories, or at construction sites."
Seiff's curiosity about what was happening to the lake off which people had lived successfully for thousands of years was fueled. Climate change, hydropower dams and overfishing are threats to the long-standing lake, she said.
Seiff went to the area several times for closer observation and to look into the situation of the people. Her reporting trips took place in 2016 and 2017. She started at three villages near Siem Reap city, then went to Prek Toal, a floating village with a bird sanctuary situated in Battambang province. She later went to Kampong Chhnang province and then traveled to Kompong Luong, a large floating village north of Krakor on the Tonle Sap Lake in Pursat province.
Each time, Seiff's trips took about one week. She also made shorter ones that would last a couple of days and during which she explored hydropower dams and the Mekong River in Strung Treng province.
Seiff said she tried to go back several times to some locations to see how were doing the people who were the main focus of her reporting. She would go with Cambodian colleagues as interpreters.
"We wanted to see a different variety of lake situations," said Seiff. "Siem Reap city is interesting because there are floating villages, but people have different situations. I went down to Pursat [province where are ] the really tiny little floating village like Akol, and Kampong Prak [that] had maybe 60 boats. They had very different living situations. We were trying to get a sense of a range of communities."
The situation of the Local People
"One thing that they had in common was they were indebted," Seiff said.
People said there was no future for the lake as the fish stock was declining, compelling their children to be factory or construction workers earning a small income, she said.
Seiff met some people in Siem Reap province who were in a critical situation and did not even have a home. They had come from Battambang province and were working in a brick factory as there was a shortage of fish in the lake.
When they would hear that fish was abundant, they would migrate with the water flow and set up camp along the lake. When Seiff visited them, there were about 10 huts that seemed to be very small, temporary housing, she recalled. Those people did not have enough food to eat, and yet, they could not go back because they had to wait for the water level to rise.
"So, we were talking to…hundreds of people," Seiff said. "There was a big range of living [conditions], but what they had in common was they all survived on fish, and there was just not enough fish."


This book written by Abby Seiff and released in 2022 is based on her research and field trips she conducted over several years in Cambodia. Photo provided.
Seiff met with roughly 80 to 100 villagers. The people who were most impacted by climate change, hydropower dams, and illegal fishing were the poorest and the most vulnerable, she said.
Since her reporting field trips in 2016 and 2017, the situation of the people she had met has shown no sign of improvement, even though there are no wildfires as there had been in 2016. The fish stock has never really gone up and people can only catch small quantities of fish, she said.
"I have not been there personally," Seiff said. "But basically, based on some reporting I read and talking with friends who have covered it, the situation is really bad now. People are not catching enough to survive; there's a lot of migration. Now there is a fishing crackdown, which seems to be affecting small fishermen."
"Troubling the Water: A Dying Lake and a Vanishing World in Cambodia"
After moving to New York City in the United States in Jan. 2019, Abby Seiff pondered undertaking a bigger project: turning her reports into a book. So, in late 2019, she started gathering her notes and the news reports she had written on the subject, then looked into historical accounts on the subject and the cultural aspects of the lake.
The book is mostly based on her reports of 2016 and 2017, historical documents, and scientific information, she said. Seiff also used reports on the situation done by Cambodian news outlets as she could not return to the country to look into the recent situation due to the COVID-19 pandemic, she said.
"At the very end of the book, I updated about the last few years, but the book really focuses on the reporting I did a few years ago," Seiff said. "It [the book] wasn't about the year to year. It was more about the individuals and survivors and how they'd been affected."
When asked how she wants the readers to perceive the people featured in her book, she said rather than viewing them in terms of data or numbers, each affected individual should be viewed and understood as a human being who has been swayed by the lake being threatened through the gradual changes in the world.
"These are real humans and they are really suffering," Seiff said. "We should not lose sight of who is at the bottom of the chain and most impacted by these global changes, completely out of their control."
The book took Seiff about 18 months to research and write. Completed in 2021, it was launched in 2022 in United States.
But Seiff always meant to do so in Cambodia, and the book will be launched in Phnom Penh on Sunday, July 17, at the Silapak Trotchaek Pneik art gallery on Street 830 off Sothearos Boulevard—https://www.facebook.com/STPCambodia
"I've always wanted to make sure that the book was available in Cambodia because this is where [are] the people who care the most about the Tonle Sap," Seiff said. "Part of why I came is to bring copies to sell and to give out while I'm here."
While she brought some copies of the book and people can also get a PDF version of it online, her publisher is working on having it available in bookstores in Phnom Penh.
The book launch will include a presentation by artist Sao Sreymao who designed the map featured in the book.


A man welds an old boat in Prek Toal village as the remains of a forest fire smolder in the background in May 2016. Photo: Abby Seiff




A family fishes on an inlet leading into the Tonle Sap lake in May 2016. Photo: Abby Seiff
Related Articles