UN Demands Taliban Revoke Ban on Women Staff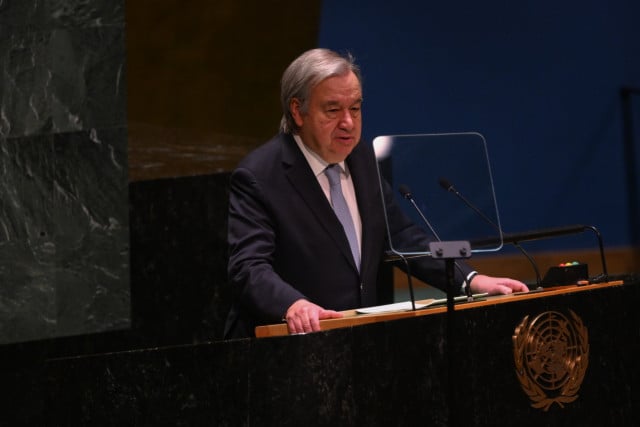 Kabul, Afghanistan -- Top UN officials warned Wednesday that a Taliban government ban on Afghan women working for its mission in the country would violate the world body's charter, and demanded it be revoked.
The United Nations also announced it had instructed all its Afghan staff, men and women, not to report to the office after the ban was confirmed.
Under their austere interpretation of Islam, Taliban authorities have imposed a slew of restrictions on Afghan women since seizing power in 2021, including banning them from higher education and many government jobs.
The increasing curbs are reminiscent of the Taliban's first government between 1996 and 2001, when the UN said they were responsible for repeated human rights violations -- particularly against girls and women.
UN Secretary-General Antonio Guterres demanded the ban be "immediately revoked".
"This is a violation of the inalienable fundamental human rights of women," spokesman Stephane Dujarric said in a statement on behalf of Guterres on Wednesday.
The UN said on Tuesday the Taliban government had extended a ban on women working for non-governmental organisations to the world body's workforce of some 400 Afghan women.
UN humanitarian coordinator in Afghanistan Ramiz Alakbarov said "the charter of the United Nations is going to be violated" because of the ban.
"It is absolutely clear that no authority can give instructions to the United Nations... on who should be employed," he told AFP. "We are not going to make an exception."
While it is unclear what the effect of a charter violation would be in the long term, the UN ordered all Afghan staff "not to report to the office until further notice".
The UN Security Council planned to discuss the issue at a closed-door meeting Thursday morning.
- 'Assault against women' -
UN mission head in Afghanistan Roza Otunbayeva said in a separate statement that, "in the history of the United Nations, no other regime has ever tried to ban women from working for the organisation just because they are women".
"This decision represents an assault against women, the fundamental principles of the UN, and on international law."
UN Deputy Secretary-General Amina Mohammed said the organisation's Afghan women staff would continue to be paid.
US Secretary of State Antony Blinken said he was "disturbed" by the "reprehensible" order.
"This will threaten vulnerable Afghans who depend on humanitarian assistance. We urge the Taliban to put Afghans first and reverse this decision," he tweeted on Thursday.
The world body's 400 women Afghan employees are the bulk of its 600 women staff working in Afghanistan. In total, there are about 3,300 Afghans in the 3,900-strong UN workforce there.
The UN airlifted $1.8 billion into Afghanistan between December 2021 and January 2023, funding an aid lifeline for the nation's 38 million citizens and shoring up the domestic economy.
- Severe restrictions -
The Taliban authorities ordered all NGOs in December to stop employing Afghan women after receiving "serious complaints" that women employees were not observing a proper Islamic dress code.
"These justifications have no basis considering what we know about Islam," said Alakbarov. Several conservative countries in the region still allow women to study and work, he added.
Many NGOs suspended all operations in the country in protest after the ban was announced, piling further misery on Afghanistan's citizens, half of whom face hunger, according to aid agencies.
It was agreed after days of discussion that women working in the health aid sector would be exempt from the decree, although the UN enjoyed a general exemption.
Aid workers say women employees are crucial in delivering help to women in a deeply conservative and patriarchal country such as Afghanistan.
The restriction will also hamper donation-raising efforts by the UN at a time when Afghanistan is enduring one of the worst humanitarian crises in the world, Alakbarov said.
In other restrictions placed on Aghan women since 2021, authorities have barred teenage girls from secondary school, while women have been pushed out of many government jobs, prevented from travelling without a male relative and ordered to cover up outside the home, ideally with a burqa.
Women have also been banned from universities and are not allowed to enter parks or gardens.
© Agence France-Presse
Related Articles