Vietnam's Ruling Party Promotes CPP Links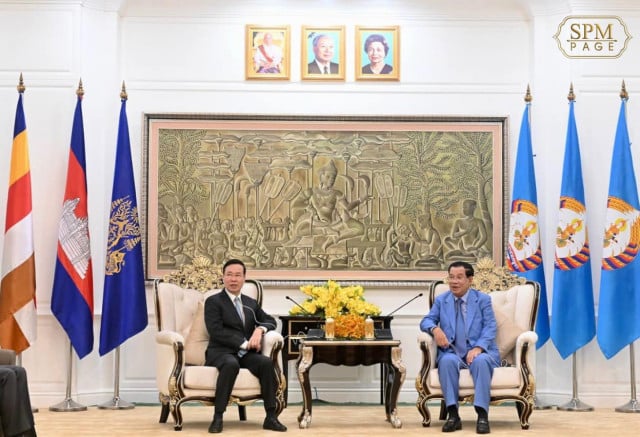 PHNOM PENH – The Communist Party of Vietnam (CPV) aims to deepen its relationships with the Cambodian People's Party (CPP) and between the two countries, a senior Hanoi party official says.
PM Hun Sen, president of the ruling CPP, met Vo Van Thuong, a permanent member of the CPV Central Committee's Secretariat on Oct. 18. Vo Van Thuong was paying a three-day official visit to Cambodia which ends on Oct. 19.
During the meeting, Vo Van Thuong offered six guidelines to strengthen the relationship between the countries. The goal was to strengthen relations between the parties and the countries, Hun Sen said on Facebook.
Thuong said he aimed to promote the relationship between the CPV and the CPP; promote exchanges of visits between leaders of the two parties; relations between the provinces and capitals of the countries; defense and security cooperation; investment and trade cooperation; and regional and global cooperation.
Chhim Phal Virun, a CPP spokesperson, said he was not at the meeting and did not know what was discussed. However, strengthening the relationship was generally towards more effective cooperation. The relationship between parties and countries always gave benefits, Virun said.
"CPP and CPV are both the ruling parties. So, the leaders of the two ruling parties met to further strengthen political, economic and cultural ties, and the issues that need to be addressed, which are even more beneficial," Virun told Cambodianess.
"The meeting is not just between two parties but a meeting between the ruling parties. Therefore, it is a beneficial meeting as those who met are the people who decide on the fate of their countries."
Hun Sen also supported the six guidelines, saying the priority was to promote cooperation on the borders, especially on security issues. The other work was to facilitate the flow of goods and trade and prevent illegal activities such as the smuggling of drugs and human trafficking.
Thuong said his visit coincided with the 55th anniversary of diplomatic relations between Cambodia and Vietnam and the 45th anniversary of the overthrow of the genocidal regime of Pol Pot.
Heng Samrin, President of the National Assembly, met Thuong at the National Assembly building. Earlier, Vo Van Thuong and Senate President Say Chhum met and agreed to continue to maintain and strengthen all communication mechanisms at all levels between the parties and countries.
Related Articles