Urban Village Is Nominated 6 Awards in Asia Property Awards 2020 in the Coming September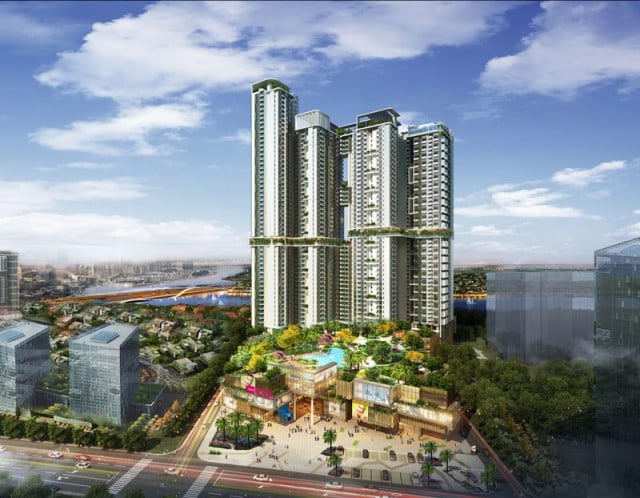 Cambodianess
August 10, 2020 7:47 AM
Urban Village Phase 2, the third flagship mixed-use development by Urban Hub Cambodia, is nominated for six awards in PropertyGuru Cambodia Property Awards 2020 which will be held this coming September in Phnom Penh, said Mrs. Catherine Chan, Urban Village's Executive Director.
The Country's Most Respected and Longest-Running Property Awards
After a thorough assessment and evaluation by a group of highly respected real estate experts from Cambodia and the region, Urban Village Phase 2 is shortlisted and nominated to compete with other Cambodia-based developments and developers for "Best Breakthrough Developer," "Best Lifestyle Developer," "Best Condo Development (Phnom Penh)," "Best Office Development," "Best Co-working Space," "Best Office Architectural Design," Mrs. Catherine added.
"Being shortlisted for these awards at the Cambodia Property Awards 2020 has already made me and our team at Urban Village proud. This has already proven that the industry's most influential experts recognize our efforts." Mrs. Catherine said.
Asia PropertyGuru's 5th ceremony in Cambodia
Asia PropertyGuru Property Awards 2020 is the fifth awards ceremony ever organized for Cambodia's developers and those in the sector to compete in the country's most prestigious competition considered "fair" and "transparent" judging and leading by the industry's experts and trusted organizers.

PropertyGuru Group is a leading property technology company and is well-known for its expertise hosting property awards ceremonies in the Asia region. Cambodia Property Awards is part of the regional PropertyGuru Asia Property Awards program established in 2005.
During a press conference held earlier this year, Mr. Jules Kay, Managing Director of PropertyGuru Asia Property Awards, said, " Cambodia is one of the most potential markets for the real estate industry among all Southeast Asian nations. The fact that Cambodia is participating in the PropertyGuru Property Awards can also help local development developers gain more recognition."
A Historical Win for Cambodia's Real Estate Industry
Urban Village has shocked Cambodia's real estate industry at Cambodia Property Awards 2019 by winning five awards in a row, making it the only development that has ever reached that level of recognition. It won "The Best Condo Development (Cambodia)," "The Best Condo Development (Phnom Penh)," " The Best Condo Landscape Architectural Design," "The Best Condo Architectural Design," "The Best Condo Interior Design."
Later that year in November, Urban Village wowed the industry again at the regional level by winning one of the most respectful and honored "Best Condo Development in Asia" awards at the grand final of 2019 PropertyGuru Asia Property Awards held in Thailand. Urban Village is the first Cambodian development to win this award, according to Mrs. Catherine.
"Urban Village is my proudest project, it was not just a victory for us at Urban Hub Cambodia, but for the whole Cambodia as it helped build the real estate sector reputation of Cambodia at the regional stage," Mrs Catherine said.
"We design our projects with passion, great attention to detail and efforts to provide the Cambodian people the most luxury living experience and fun place to live and homes where they are proud of. We hope to win most awards this year too and bring Cambodia to the regional stage again at the grand final," she said.
If win in every category it is nominated, Urban Village will become the only development that wins over ten awards.
About Urban Village Phase 2
Urban Village Phase 2 is the largest community-focused Hong Kong-invested development in Cambodia, which has incorporated the Hong Kong expertise in building condominiums together with Cambodian culture. Sitting on a total area of 12,000 sqm, Urban Village Phase 2 consists of "luxury yet affordable" residential units, commercial spaces and offices across four towers, buildings E, F, G and H.
Located strategically between Samdech Hun Sen blvd and National Road 2, Urban Village Phase 2 has a perfect location in the city's fastest developing area commonly known as 60-meter blvd, only 10 mins drive to the city center and 15 mins to Phnom Penh New International Airport.
Urban Village is the most environmentally-friendly development with 45% of the project's total area is reserved for park and green space, providing residents and visitors great venues to socialize with one another.
Not to mention, it is adjacent to the largest creative hub in town, Factory Phnom Penh, that has the largest co-working space, the biggest art gallery, an international school, an event space, a banquet hall, a Brazilian gym, a cafeteria, restaurants, pop up stores, sports facilities, retail outlets, a photo studio, a kid's playground, a skateboarding park, soccer fields, a library and a German hand-crafted beer brewery.
Units at Urban Village Phase 2 are selling fast. Among the 4 buildings, more than 2 of them are sold out within a short period.
The tallest building in Samdech Hun Sen Blvd, Sky Prime Tower H has just been recently pre-launched sales with some special discounts and offers. If you are interested in any units in building H, feel free to call 017 999 531 / 017 999 541 or Email: [email protected] or visit the showroom at Factory Phnom Penh.
Related Articles