US adds six China entities tied to balloon program to blacklist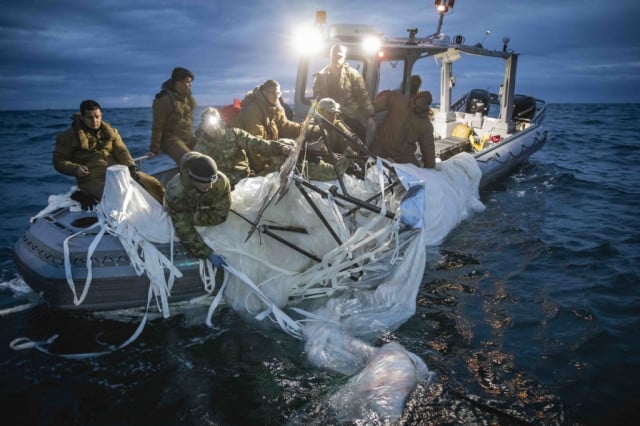 February 11, 2023 11:31 AM
Washington, United States -- The US Commerce Department said Friday it has blacklisted six Chinese entities for supporting Beijing's military modernization efforts, particularly relating to aerospace programs including airships and balloons.
The move came a day after US lawmakers unanimously denounced China's use of a suspected spy balloon that flew over North America last week.
The balloon's days-long flyover from Alaska to South Carolina captured the attention of regular Americans and officials, before the US military shot it down off the country's east coast Saturday.
Companies added to the so-called Entity List are restricted from obtaining US items and technologies without government authorization.
"The (People's Republic of China's) use of high-altitude balloons violates our sovereignty and threatens US national security," said Under Secretary of Commerce for Industry and Security Alan Estevez in a statement on Friday.
"Today's action makes clear that entities that seek to harm US national security and sovereignty will be cut off from accessing US technologies," he added.
The six companies include Beijing Nanjiang Aerospace Technology Co; China Electronics Technology Group Corporation 48th Research Institute; and Dongguan Lingkong Remote Sensing Technology Co.
The other three are Eagles Men Aviation Science and Technology Group Co.; Guangzhou Tian-Hai-Xiang Aviation Technology Co.; along with Shanxi Eagles Men Aviation Science and Technology Group Co.
In a document, the Commerce Department said China's military is utilizing high-altitude balloons "for intelligence and reconnaissance activities," adding that this was contrary to US national security and foreign policy interests.
China insists the balloon was a "civilian airship used for research, mainly meteorological purposes."
But a State Department official has indicated the US believes the balloon to be under the control of the Chinese People's Liberation Army, and is part of a fleet that China has sent over more than 40 countries on five continents to collect intelligence information.
Friday's action indicates concerted efforts to identify and disrupt China's use of surveillance balloons, "which have violated the airspace of the United States and more than forty countries," said Assistant Secretary of Commerce for Export Enforcement Matthew Axelrod.
"Export Enforcement will vigilantly monitor and prevent shipments to the listed parties and investigate any efforts to circumvent these restrictions," he said.
© Agence France-Presse
Related Articles