US-China Rivalry Challenges ASEAN: Panelists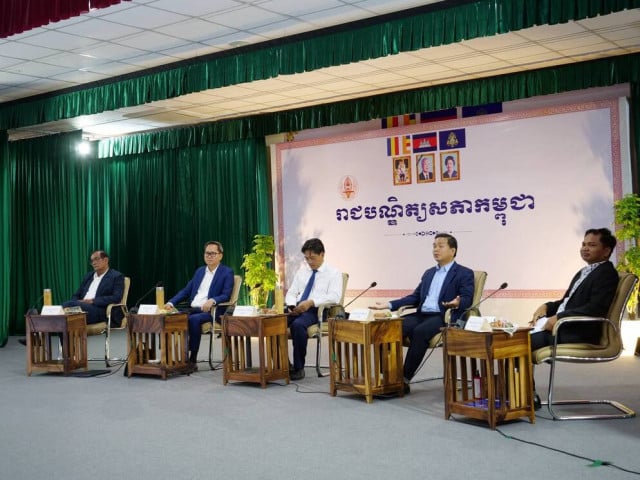 PHNOM PENH – ASEAN is facing challenges and problems from the great powers' competition, potentially forcing member states to choose sides, says Kin Phea, director of the Royal Academy of Cambodia's International Relations Institute.
Speaking at a conference themed "ASEAN in between the US and China in the new context," July 14, Phea compared the two powers to elephants.
"When elephants fight, only ants die," he said, adding that small or least powerful countries are affected by the US-China geopolitical and economic battle.
"As a result, ASEAN, including its member states, is affected by the rivalry."
Phea said ASEAN couldn't choose side either, as both the US and China have significantly contributed to the development of ASEAN and ASEAN members.
"China has been using soft power to spread China's power by valuing and promoting development and economy rather than using ideological policy," Phea said.
"Therefore, China has been significantly investing in the countries in Southeast Asia, as well as provide grants and loans with simple conditions, for economic growth, hydropower dams and infrastructure development."
The US was viewed as an important export market for most of the member states and has been using free trade agreements and other trade preference programs like the Generalized System of Preferences for Cambodia and other ASEAN member states to strengthen its relations with ASEAN, thus hindering China's power from spreading any further within the Southeast Asia region.
Another panelist, Meas Nee, agreed that the US-China rivalry has brought several problems for ASEAN, saying that the internal conflict of interest among ASEAN member states is one of the factors that can lead to the fall of ASEAN as each member is working on their own interests while trying to keep good relations between them and the two giants.
"Although ASEAN is still exercising its consensus, ASEAN seems to be walking in a separate way doing their own things individually because of the rivalry of the two great powers. Cambodia is also dealing with accusations of being the pawn of China," Nee said.
As to the South China Sea dispute, Nee considered this as a more pressing issue for ASEAN member states to maintain unity because four member states are involved in the territorial dispute. The West was keeping its eyes on ASEAN in solving this.
Another difficulty for ASEAN was the effect on world trade if there was a war in the South China Sea or China completely controlled the area and it was closed to shipping.
In this context, ASEAN is sitting on the fence and can be pushed to fall either on the left side or the right side – the US and China – if it does not have effective policies or means to maintain its position between the two powers, Nee said.
"In other words, ASEAN has to keep its good relations with both countries."
Puy Kea, a correspondent for Kyodo News, said with China's influence spreading across the South China Sea and Southeast Asia region, the US started acting as a security guarantee to hinder China's geopolitical moves by strengthening its relationship with all countries.
"The tension between the great powers is rising, but the challenges and problems have pressured the small countries – ASEAN member states," Kea added.
Sok Touch said, "Geopolitics is a factor creating the hardships for not only for Cambodia but also ASEAN as a whole."
Touch said ASEAN should stand its ground by using ASEAN's ways including non-interference in the internal affairs of one another; settlement of differences or disputes in a peaceful manner; renunciation of the threat or use of force; and effective cooperation among themselves.
Phea added, "ASEAN must maintain its neutral policy, which is difficult as it's related to the association's benefits. ASEAN does not have a reason to replace a powerful country with another powerful country,".
Related Articles