Vietnam Is Building Permanent Military Structures along the Cambodian Border in Kandal Province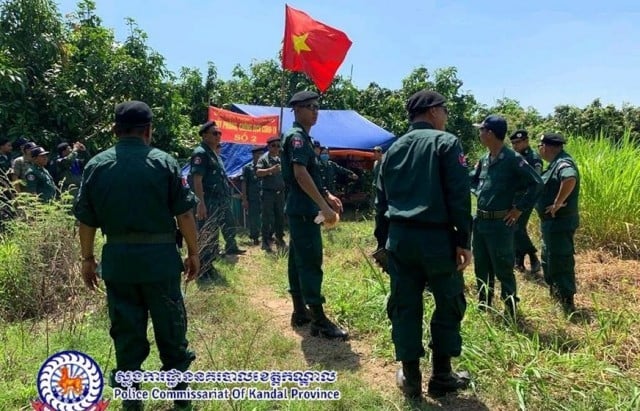 Phoung Vantha
August 27, 2020 12:30 PM
According to a provincial police report, the tents set up at that location earlier this year are being replaced by a series of modest buildings
PHOM PENH—The Vietnamese military is in the process of building a military post along the Cambodian border in Kandal Province in spite of requests made by the Cambodian authorities to stop turning their temporary structures into permanent ones.
In a letter sent to the governor of Kandal Province on Aug. 26, the provincial Police Commissariat said that, on Aug. 25, the police authorities had inspected the area where the Vietnamese military had previously set up tents. Now, the Vietnamese forces are replacing those tents with permanent structures.
The buildings are 5-by-4-meter wooden buildings with rock pillars and zinc roofs located 120 meters from the border between Kandal Province and An Giang Province in Vietnam, the letter stated.
And in spite numerous requests made by the Cambodian Border Defense Team of the Special Military Region 601 for the Vietnamese military to stop construction, the work goes on, the Kandal provincial Police Commissariat said in the letter.
"Their superiors are planning to build new tents (solid shelters), about four more [to add to the] 10 existing ones," the letter read.
On May 13, Cambodia had sent a diplomatic note to the Vietnamese government, asking to remove the 31 tents that Vietnamese soldiers had set up at that location.
Contacted regarding the Vietnamese military's construction project, Kandal Provincial Governor Kong Sophoan said that he was waiting for the report of the border technical officer before taking further steps. "We need confirmation from the technical officer first," he said.
Foreign Affairs Ministry spokesman Koy Kuong and Koy Pisey, vice chairwoman of the Cambodia Border Affairs Committee, could not reached for comment on Aug. 27.
Cambodia and Vietnam share a 1,270-kilometer border, which they have been demarcating since 2006. The two countries have so far ratified 86 percent of their common border.
Related Articles