Will the New Wave of Business People Push Out the Old Wave in the Sector?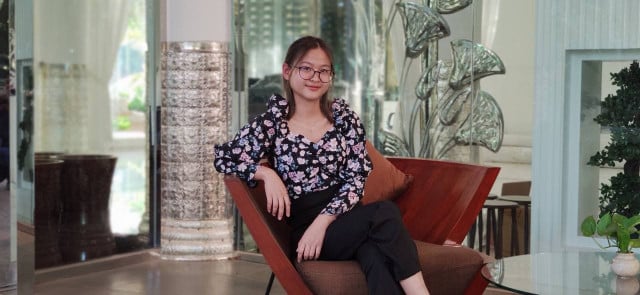 Among the many fields of study in Cambodia, business still retains momentum and is among the most popular undergraduate majors for Cambodian students. However, as time elapses and society changes, the study of business may produce different results for future generations. During an interview, Lim Presana, a third-year student at the American University of Phnom Penh (AUPP), shared her thoughts and ideas on business studies.
Ky Chamna: With business major reaching saturation point in the Cambodian market, what motivated you to still take this major?
Lim Presana: There are certainly more students majoring in business, but there are even more opportunities in Cambodia's fast-growing economy. Personally, I do not feel as though a business degree has less value than any other undergraduate degrees, and I simply do not sympathize with the idea that there are fewer opportunities for business graduates to land themselves high-paying jobs or that there is no future beyond entrepreneurship. I believe that being a business major gives me a broader exposure and an understanding of how various departments like the marketing, finance, human resource and administrative departments operate. Above that, I am also able to equip myself with crucial skills such as business communication, critical thinking and flexibility. That being said, I love the fact that, after I graduate, I would not be chained to one specific career path, that I would be able to pursue my true passion in whatever field that may be because business students are trained to be versatile!
Ky Chamna: As Cambodia has been integrated into the globalized world, the way people managed their businesses during the early 2000s and 2010s is not the same as today. From the perspective of a business student and from what you have learned, will the study of business nowadays actually help students better conduct their own businesses later on compared to their counterparts from previous decades? And how?
Lim Presana: The answer is a big YES. In the past, businesses could survive due to high-demand and low-supply as well as little to no competition around, regardless of the quality of their products and services. More importantly, older generations are still managing their businesses the traditional way. Now, our economy and society have become extremely dynamic. There is significant improvement in living standards, consumer knowledge, competition, not to mention the advancements in technology. You cannot successfully run a business the way you did 10 years ago. With the new generation of business students, what they will bring to the table is a wide range of knowledge and standards that will help businesses operate more effectively and efficiently. We are able to understand and use technology to our advantage to scale, understand customers and the market better. Last, business students nowadays are better-rounded, and can embrace and adapt to change much quicker.
Ky Chamna: The business sector is not an easy thing. It takes plenty of efforts as well as time to create and maintain operations. On the other hand, theoretical and practical knowledge are more or less equally important for university students. Because of this, as a way to acquire practical knowledge after your studies, do you plan to run your own business or to work for an existing firm? If you want to run your own business, will it be a family-run business or a joint-venture with other people? And why?
Lim Presana: Fortunately, being an AUPP student, we are required to undergo an internship program as part of our curriculum. This opportunity allows us to receive orientation to the corporate world and gain real work experience. During that internship, we all have the chance to reflect on whether we would like to go down that particular road in the future or whether we would want to pursue another path. For me, I have not done my internship yet, but I have decided to leave the options open for myself if an 8-to-5 career somehow speaks to me. Speaking of options, my number-one priority after graduation is to get involved in my family's business. I believe that working with and for my parents is no different from working for somebody else. In fact, it will be more rewarding. The advantages include being able to experience what owning a business feels like, you will be more resilient because failures are scary when it is your family business, and you get to enjoy the highs and endure the lows with your parents as well.


Ky Chamna: Some of the business aspects in Cambodia are still pretty much blurry. Some claim that, to be good in business, one has to charge like a soldier and practically do the business. Others claim that theoretical knowledge is also crucial before running a business. As a university student, what is your take on this?
Lim Presana: What I have learned from watching my father conduct our family business and from what I have been taught at university is that both theoretical and practical knowledge are equally important. You cannot have either or one of them, you need both. Theoretical knowledge allows us to know first-hand how certain procedures are done in a business. It illustrates what could go wrong if you make certain decisions. It teaches us how to mitigate the decisions that are potentially harmful, especially how to recover from bad decisions that have been made. Simply put, there is no such thing as "knowledge 1%, bravery 99%" that will ensure you a victory in the world of entrepreneurship. Yes, I do agree that some mistakes are part of the learning curve. However, mistakes in a business are money. Therefore, you do not want to make mistakes that are preventable had you acquired the knowledge beforehand. As for the practical knowledge, even if you are a hotel owner and you are not required to do all the labor-intensive work and maintenance work yourself, you would still need to know how those jobs are performed at a certain level. Such practical knowledge really comes in handy when there is dissatisfaction with the cleaners wasting too much disinfection products, or the maintenance workers overcharging for their services because they assume you do not know the difference between cleaning the AC and fixing its pipe. Then, you can easily communicate the problem and solution to the cleaners and avoid unnecessary expenses in your business.
Ky Chamna: When it comes to business, do you personally believe in luck? Despite those empirical and statistical studies, do you think luck still plays a crucial role in steering the destiny of a business?
Lim Presana: I do believe in luck and destiny to a certain extent, mainly because my family is a bit religious. There is this expression "right opportunity, wrong time" or "right time, wrong opportunity" in both life and business, and that is why some people miss out on good business opportunities and sometimes they save themselves from losses. Nevertheless, everyone needs not to dwell on the lost chances or bad investments forever and have to find a way to continuously move forward. Otherwise, you'll never make it.
Ky Chamna: Do you think your professors at the American University of Phnom Penh offer you an appropriate amount of knowledge when it comes to your business studies?
Lim Presana: Yes, the professors at AUPP have provided a great amount of knowledge. They also have brought different perspectives and experience in each class. In addition, we follow the American educational system and curriculum. The US educational system encourages students to actively participate in class, to always stay curious and to practice critical thinking. Therefore, it's not strange for professors to only talk and teach roughly about 40 percent of the materials in class, and the remaining 60 percent is up to the students to explore and ask when questions arise, which they should and generally do. In respect to the curriculum, AUPP business students are subjected to a wide range of knowledge encompassing not only economics, finance and accounting, marketing and human resource management, but crucial general knowledge such as oral communication, business law, history, information technology and arts. On top of that, AUPP introduces and hosts many volunteering opportunities and extracurricular activities for students to broaden their knowledge and experience.
Related Articles
January 14, 2022 11:05 AM