Young Teacher's Lesson for a Close-Knit Classroom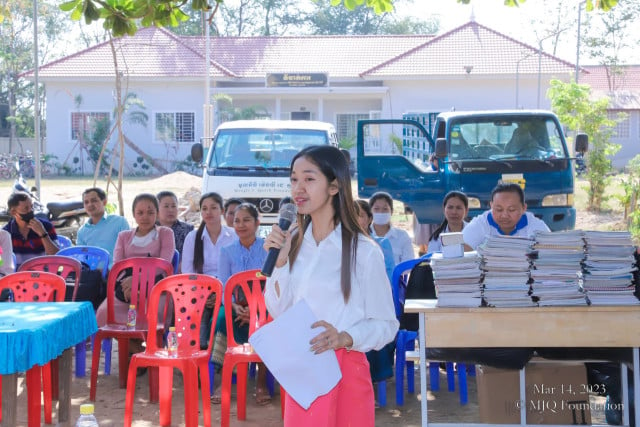 PHNOM PENH — Young teacher Bon Theary says establishing a close relationship with students is needed for effective teaching.
Theary, who started her career at 19, believes in promoting a friendly environment in the classroom where students can open up about their academic and personal struggles.
Born in a suburban area of Phnom Penh in Kandal province, Bon Theary, now 23, was recruited as an elementary teacher after she graduated from high school.
She is also a fellow at Teach for Cambodia, a local organization working to reimagine education and the social impact industry in Cambodia so that children can receive a top-notch education.
Having taught students in grades two and three at Puk Russey Elementary School in her hometown, Theary has figured out that her passion to help students achieve academic success while being happy and comfortable with learning has become her ultimate goal.
"At first, I did not think that I would have become a teacher," she said.
"I used to be an outstanding student, being given an opportunity to explain the lessons to the whole class.
"I then thought what if I became someone who shared and explained things to the others?"
She decided to become a teacher and took the teacher civil state examination with success.
"I love the profession as it is in line with my passion for sharing while I can contribute to society's development through cultivating human resources," she said.
Challenges for a youthful teacher with young students
Flexibility is crucial to teach young students, Theary said, adding that she has to prepare many techniques to deal with students because young children always prefer entertainment to learn.
Some students cannot catch up with lessons while some do not pay attention in class. Some parents are busy, having no time to engage with the school, and she has to intervene which is quite challenging.
Theary's main challenge is seeking a technique that can push up the weak students and motivate them to engage in the classroom.


Theary, who started her career at 19, believes in promoting a friendly environment in the classroom where students can open up about their academic and personal struggles. Photo provided by Bon Theary

Some students help their parents sell things at night to make ends meet while some do not receive encouragement to learn.
Some students think they cannot go further than their hometown, discouraging them from studying hard.
"When there are a few students who really do not want to study, I do not force them," she said. "I try to encourage them and talk to them one on one during the break times, learning about their challenges. It also makes them accept me as a person whom they think can help them."
"When I use this technique, I find that it's effective as the students start to speak out to me more and more," she said.
"After I learn about their situation, I will lead them to talk about their dreams and future, when I can insert the right encouraging words for them."
Learning cannot be forced
Theary said students of any age cannot be forced to learn by using intimidation, violence or harsh words as implemented in the past, adding that they need encouragement and a sense of security.
Theary said she used to think of giving up the profession with its lower pay and huge responsibility but reflecting on her goal and passion, she can continue and help young students in need.
"I used to be a student with good grades, so I need to be a teacher who can cultivate human resources as well," she said.
Her proudest moment as a teacher was when her eight-year-old student came up on the stage and gave a gratitude speech at the Mengly J. Quach Foundation — a philanthropic non-governmental organization of — for helping her school.
"I was over the moon when my young student could deliver the `12speech smoothly and was complimented," she said. "It motivates me more to pursue the teaching profession."
A resident of Puk Russey commune's Puk Russey Leu village, Khsach Kandal district, Theary pledged to excel in the profession to provide the right education at an early age.
She urged teachers to build close relationships with their students and asked parents to contribute to students' academic performance.
Related Articles