Young Women in the Countryside Opt for Work rather than Higher Education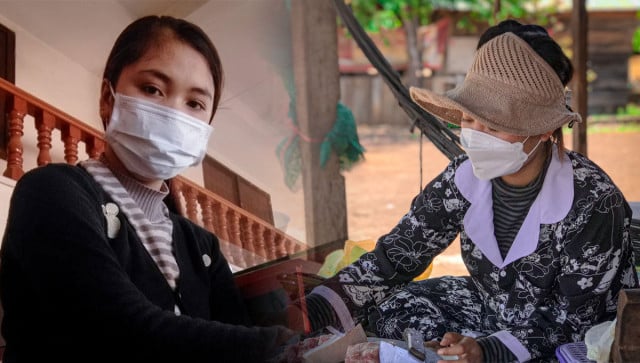 However, to play a role at the decision-making level in the country, women usually need higher-education qualifications, an NGO representative says
ODDAR MEANCHEY--Eng Narin and Tharn Sopheak who live in the same village of Svay Chek in Oddar Meanchey Province have one thing in common: The two young women opted for work in small businesses and marriage rather than a university education.
In Eng Narin's case, having to study at home during school closure due to COVID-19 reinforced a decision she had already made. "Before graduating from high school, it was difficult when studying online because distance learning made [class] hard to follow for me, and I was so nervous during the exams," she said.
"Also, there were times I had to be selling [at the family business] while studying." According to a study conducted by Save the Children International and released in early 2021, as many as 7.99 percent of the students at provincial levels were at high risk of dropping out due to the situation created by the pandemic.
So, after graduating from high school in 2020, Narin decided not to pursue higher education and instead to manage her family's business. "I have liked selling and doing business since I was young," she said. "Besides, I also needed to help my family's business—that's why I could not study far away from home.
Then in 2021, Narin married. Doing so right after graduating from high school was a decision she had made because she wanted an understanding life partner with whom she would run their own business without being dependent on their parents' money or business, she said. "I used to be under my parents' protection," Narin said. "I did not…have to focus on problems."
However today, she said, "I have to sell all day and manage the income and expenses. Besides doing business, I have to do house chores as well." Both she and her husband have to work hard to make their business a success, Narin said. "Selling pork is an arduous business for me because the shop is far from home, and I have to get up at 4:00 am every day.
"I still do not have free time although the pork is sold out fast because I have to do laundry, cook and clean the house until 11:00 pm," Narin said, adding that her husband works hard as well.
Tharn Sopheak who also is from that village in Anlong Veng District's Phlat Commune, stopped school after the 11th grade and started working at a gold jewelry shop in Oddar Meanchey Province as currency exchange staff.
"Before I got the job, I had thought of continuing my education," she said. "However, I got interested in my job after having worked there for a while. So, I decided to drop out and keep working until now."
Sopheak got married in late 2020. She plans to set up her own money transfer and currency exchange business because she really enjoys doing this work and now knows a great deal about the field.
Women need higher education to accede to decision-making positions
According to Seng Reasey, director of the Silaka Organization in Cambodia—an NGO that has worked on strengthening the leadership capacity of women in the country—young women who choose not to pursue higher education lead to a decrease in the number of women at the decision-making level in the public, private and also civil society sectors.
Because, while these women have jobs or their own businesses, positions at leadership levels usually require women with higher education, she explained. "Education and participation in social development are linked to each other," Reasey said.
Some roles in society require education and professional skills, she said. If women do not have a higher education, the likelihood of their participation at the decision-making level in the various sectors becomes limited.
"If women do not have those skills, getting those positions is an unlikely possibility," Reasey said. "[P]eople in those positions make decisions that will greatly influence organizations' policy implementation at the decision-making level at work." This leads to women losing the opportunity to play a role in the implementation of those policies, she said.
According to Seng Reasey, the small number of women in leadership positions leads to a lack of women's participation and contribution: They may lose their opportunity to exercise their rights to participation at some point.
Related Articles