$1,000 Offered for Wildlife Hunting Information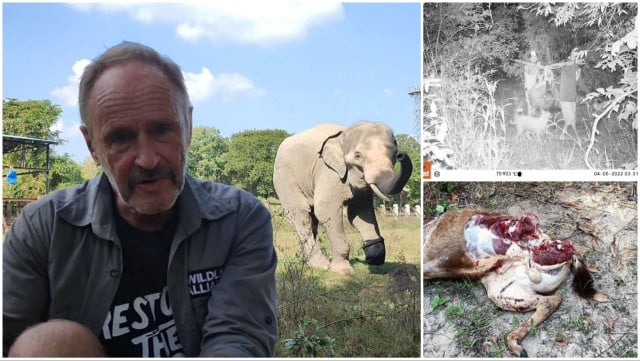 PHNOM PENH – The Wildlife Alliance will give $1,000 to anyone providing information on illegal hunting and trapping in protected areas. Confidentiality is guaranteed for sources.
Nick Marx, the organization's director of wildlife rescue and care, said increased hunting and trapping had become a concern which required attention.
Phnom Tamao Wildlife Rescue Center, along with the wildlife protecting communities, was working hard on the matter but the acts were still committed.
"The number won't decrease unless there is full participation from all actors," he said.
"We can reward people who provide clear information on the hunting or trapping that can lead to arrests of perpetrators. The team will give them $1,000."
Rewards will be offered within the protected areas he is helping, including Phnom Tamao forest, the Prambei Mom Forest Community in Kampong Speu province and the forest in Koh Kong province.
The reward was to encourage people to increase their love of wildlife, Marx said.
More than 200 traps were found in a sugarcane farm next to land of the Prambei Mom Forest Community in the first three months of this year.
Try Sitheng, head animal keeper of the Phnom Tamao Wildlife Rescue Center and the facilitator of the Wildlife Alliance based in Phnom Tamao, said there was not much trapping but the problem had been illegal hunting.
"The hunters are not afraid of anyone. There are currently more modern tools used for hunting, Silent guns, for example. Average villagers wouldn't dare do such a thing," Sitheng said.
He said the identity of the source of information on illegal hunting would be guaranteed to be kept safely by the organization.
"I, as a wildlife conservation worker, have worked in many places in the forests, and there is not much wildlife left, especially deer," he said.
"There are not as many wildlife animals in forests as there are in the Phnom Tamao center. Even in Koh Kong forest, there were only four to five pictures of deer captured," he said.
Both wildlife conservers said all conservers wanted citizens and authorities to work closely together and save the remaining animals for the next generation to learn from.
Environment Ministry spokesperson Neth Pheaktra said the ministry will launch phase II of the Zero-Snaring Campaign from April 7 until July in Kampong Speu, Koh Kong, Battambang, Pailin, and Pursat provinces.
The launch was to promote wildlife and human safety in forests, as well as to cultivate love for wildlife and to protect it.
The second phase would be considered after the success of the first phase from March to October, 2022, in Stung Treng, Kratie, Ratanakiri, Mondulkiri, Kampong Thom and Preah Vihear provinces.
According to the ministry's report, 61,611 traps were found within 72 protected areas in 2021. This was 20 percent more than in 2020.
After the campaign, the number fell to 34,000 in 2022.
Related Articles