39 COVID-19 Cases Are Detected, Most of Them due to Community Transmission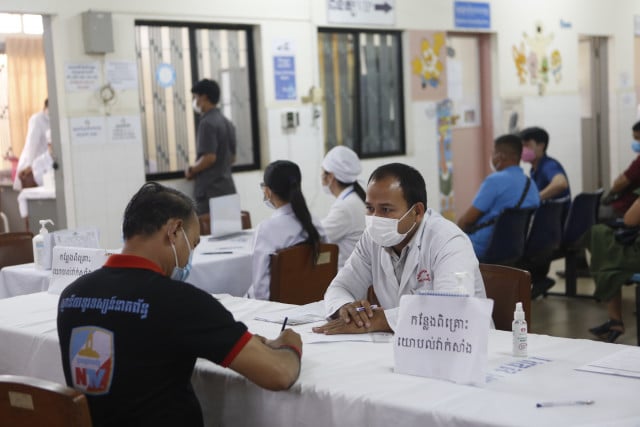 Sao Phal Niseiy
February 28, 2021 6:45 AM
While the Cambodian authorities are about to extend vaccination to all provinces
PHNOM PENH--The Cambodian health authorities on Feb. 28 announced that 39 new COVID-19 cases had been identified with most of them linked to the recent community cluster.
"There are 39 positive cases in total," Or Vandine, spokesperson for the Ministry of Health, said in a press statement. "Thirty-five patients who include five Cambodians, six Vietnamese nationals and 24 Chinese nationals are associated with the Feb. 20 community transmission."
Among them, 21 patients have been hospitalized at the Phnom Penh Quarantine Center, four patients are being treated at the Chak Angre Health Center and two at the Khmer Soviet Friendship Hospital in the capital. The other eight patients are under treatment at the Preah Sihanouk Province Referral Hospital.
As for the four other cases, Vandine said, they consist of four Cambodians who served in a United Nations Peacekeeping operation and arrived from Africa via India on Feb. 21. They now are being treated at the Training Centre for Multinational Peacekeeping Forces in Kampong Speu Province.
These new cases brought to 805 the number of COVID-19 cases in Cambodia since the start of the pandemic one year ago. Among them, 477 patients have since recovered while 328 are currently hospitalized. No death has been attributed to the coronavirus in the country.
Cambodia expands the vaccination drive to all 24 provinces and the capital
In a press statement on Feb. 27, the Ministry of Health announced the start of the third phase of the vaccination program that will be conducted in 15 provinces.
According to the statement, the vaccine will be administered to frontline medical workers, the police forces as well as the local authorities.
Cambodia began its first phase of vaccination on Feb. 10 in Phnom Penh using the vaccine Sinopharm developed in China, the first batch of 600,000 doses arriving in Cambodia since Feb.7. The second phase announced on Feb. 22 was carried out in nine provinces bordering Thailand, Laos and Vietnam.
The country has to this point vaccinated around 60,000 people consisting of 13,000 persons in priority groups and 48,000 members of the military and police forces, the official figures released by the health and defense ministries indicate.
According to the Ministry of Economy and Finance, Cambodia so far has secured at least 11 million doses of vaccines. Among them, 7 million doses will be acquired through COVAX, the World Health Organization's vaccine distribution platform, and 3 million doses are donated by Australia, 1 million doses by China, and 100,000 doses by India. In addition, Russia has been considering a proposal from Cambodia regarding a COVID-19 vaccine donation, the ministry said.
Regarding the vaccine doses to be acquired through COVAX, it still remains unclear when Cambodia will receive them although government officials have said they were expected in February or March.
Related Articles