ABA Bank Outage Sees Businesses and Customers Scramble for Cash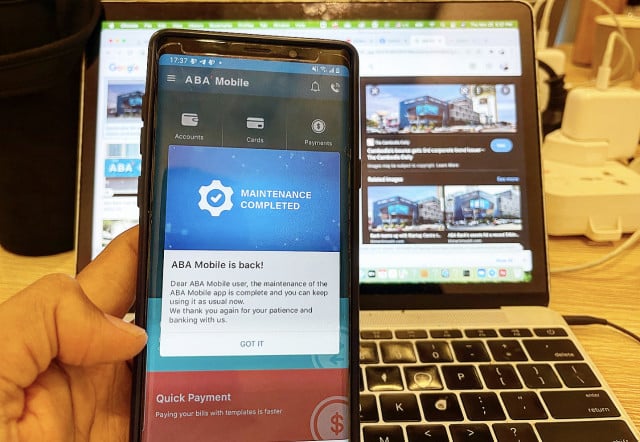 For much of today, ABA Bank—which boasts 1.5 million customers across Cambodia—saw a total systems failure that prevented customers from accessing their money or paying using the ABA app
PHNOM PENH--Cambodia's largest bank, ABA Bank, encountered a systems failure today prompting outrage and frustration as 1.5 million customers were unable to access their money from ATMs, nor were they able to pay using the ABA mobile app—one of the most popular digital payment platforms in the country.
The outage began sometime on the morning of Nov. 25 and immediately netizens were taking to social media to vent their frustrations.
While regarded widely as an inconvenience, for delivery drivers like Ouk Chhoumvitou, the ABA outage represented lost income and heightened frustration as he bore the brunt of customer complaints when they realized they couldn't pay via ABA.
"It is very difficult for us when the system was struck because most of customers need do money transaction," said Chhoumvitou, who delivers food for takeaway service E-GetS. He added that only Chinese customers were ordering deliveries today as many of them use payment systems besides ABA.
"Many customers who don't have cash with them requested us to pay later when the system was back to work," he said, adding he and his colleagues felt concerned about giving customers food without paying. "But we know their phone number and address so it was a big relief for us."
With assets of $7 billion and 1.5 million customers nationwide—according to a quarterly report from June 2021—ABA Bank has 79 branches and more than 600 ATMs nationwide, but today staff at branches were turning customers away and ATMs uniformly bore messages onscreen apologizing for being out of service.
"We don't call it [a] crash, because neither the software [or] hardware of the bank nor client's data was affected in any manner by this case," said Igor Zimarev, ABA Bank's chief marketing officer.
Zimarev explained that the banking platform was due to be upgraded on the night of Nov. 24 with plans to improve services, but technical issues shortly after midnight stalled the upgrade, rendering many of the banks' services inoperable throughout much of Nov. 25.
"We witnessed certain inconvenience due to the impact of the upgrade procedure, but since there was no material loss or damage to the customers and to the bank, we don't see a huge economic impact," Zimarev said.
"No, the customers' data was not compromised in any way, and the funds of our customers are safe as always," he added, apologizing to customers of ABA Bank for the inconveniences.
Over the course the afternoon, various functions began to return to ABA Bank customers—notably the mobile app began working again at 3 p.m. while access to bank accounts, ATMs and cash withdrawals resumed around 5 p.m.—Zimarev also said that branches would stay open slightly later to account for the hours lost in the day.
But for other e-retailers the situation was one their businesses were able to circumvent. Choun Vathanak, head of business development at local delivery service Muuve, said there had been less impact for his company because Muuve informed customers about the payment issues immediately.
"There is no big problem for us as our deliverymen were informed in the morning. This is because we knew there was a problem with ABA digital payments. We informed our drivers to prepare some cash in advance," Vathanak said, adding that his company received the same number of orders, but with a decline in food orders using ABA paying system.
Despite having 1.5 million people using the banking system, economics lecturer at Royal Academy of Cambodia, Ky Sereyvath said that the disruption to ABA's banking system may have only small consequences on money transaction, but noted that those who depend heavily on digital payments for their work will have felt the impact more acutely.
He went on to explain that, despite the prevalence of ABA and digital wallets, cash is still king in much of Cambodia.
"Commonly, most of our people always have cash with them so the disruption won't affect them much," he explained, pointing out that there are still some people who don't trust digital payments.
Additional reporting by Gerald Flyn
Related Articles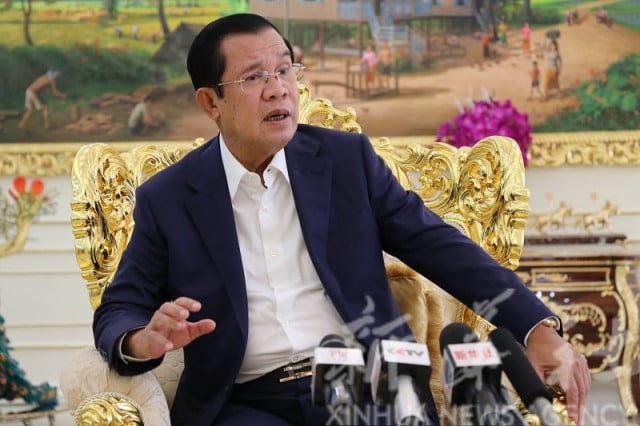 September 17, 2019 9:31 AM