Agriculture Ministry Seeking to Lower Costs of Local Fish Farms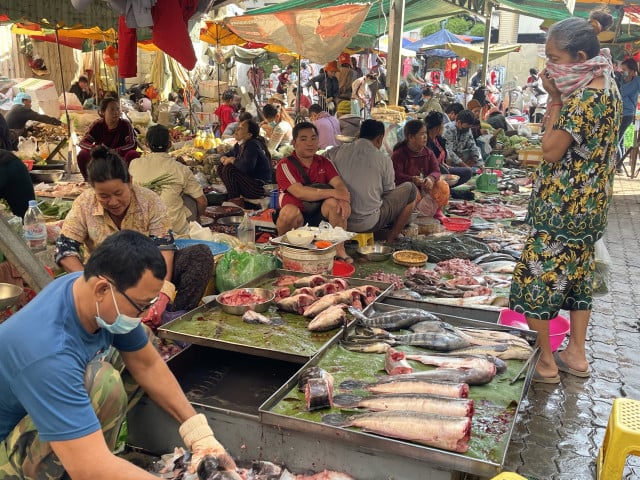 Ou Sokmean and Phoung Vantha
February 15, 2021 8:09 AM
Following complaints from fishing communities about the costs of production and cheap imports from Vietnam, the Ministry of Agriculture announced it will conduct a study aimed at lowering costs for Cambodian fish farmers.
PHNOM PENH--The Ministry of Agriculture announced on Feb. 12 that it will conduct a feasibility study with a view to finding ways to lower the costs for local fish farmers. This comes after complaints about low-cost Vietnamese fish were undercutting the Cambodian market.
Pum Sotha, director-general of the Fisheries Administration, said that the Ministry of Agriculture, the Ministry of Economy and the Ministry of Commerce—as well as other relevant professionals—are actively seeking ways to reduce the cost of production at local fish farms.
"My team and experts at the relevant ministries are studying how to keep the cost of fish farming low and how to reduce costs for local aquaculturists," he said.
Sotha said that these changes could come in the form of reduced electricity prices for fish farmers, but that authorities were also exploring reduced transportation costs, along with attracting more investment in fish feed factories and manufacturers.
At present, Agri Master Company remains the only fish feed producer in Cambodia, Sotha added, noting that it is costly to get the factory's products to farmers from Kandal Province, where Agri Master is based.
The inter-ministerial study is the result of outcry from Cambodian fishing communities who claimed that cheap Vietnamese imports were harming their businesses and demanded lower production costs in order to compete.
On Jan. 8, 2021 the Agriculture Ministry banned the import of four species of fish from Vietnam, but came under fire from Vietnam's Minister of Industry and Trade Tran Tuan Anh, who—on Jan. 29—wrote to the Cambodian authorities saying that the ban was not in the spirit of the World Trade Organization's rules.
As such, just a month after its introduction, the ban was lifted on Feb. 8—a decision that was quickly met with anger from the Cambodian Aquaculturist Association. Members of the association expressed concern over the growing number of low-cost, low-quality fish being imported to Cambodia from Vietnam, but also noted that fish traders preferred the Vietnamese imports as they were cheaper than locally sourced fish.
Sotha said that there are restrictions on the imports of fish from Vietnam due to quality controls, but many local fish farmers remain unconvinced.
A Heavy Reliance on Imported Materials
Having farmed fish in Kandal Province for more than 10 years, Touch Bona complained that locally produced fish feed has remained at the same low quality over the course of his career.
"It's low quality and yet it's the same price as the imported fish feed from Vietnam," Bona said, adding that he would like to buy locally, but the cost and quality currently won't allow him.
Fish feed, Bona explained, varies in terms of price and protein level, but different fish—at different ages—will require different amounts of protein consumption to remain healthy.
As such, the cost will vary, but a 25 kilogram bag with high protein levels costs roughly $22, Bona said, whereas lower protein filled bags of the same size cost around $14.30, so it depends on the growth of the fish as to what is needed.
Almost all industries in Cambodia have a heavy reliance on imported materials, but for fish farmers, it's the entire supply chain.
"It's very expensive to farm fish here, particularly by contrast to neighboring countries," said Limphor Suthavaridh, who works in the promotion and development of aquaculture at the Cambodian Aquaculture Association.
With more than 300 families counting themselves as members of the Cambodian Aquaculture Association, Suthavaridh estimated that they can collectively supply around 3,000 tons of fish to the market each month, but that it's not cheap.
"It's hard to break even, but with climate change and environmental issues, people are now making a loss—largely because so many raw materials used in the aquaculture sector need to be imported, mostly from Vietnam," he said, adding that these imported products are expensive and reduce the profits made by Cambodians.
"But it's not just the materials, breeding fish domestically is expensive—medicine, vaccines, electricity, transportation—all of these things are more expensive in Cambodia, it's impossible for us to compete on price with Vietnamese fish," said Suthavaridh.
Related Articles