Angkor Wat's Naga Balustrade Restoration to be Completed this Month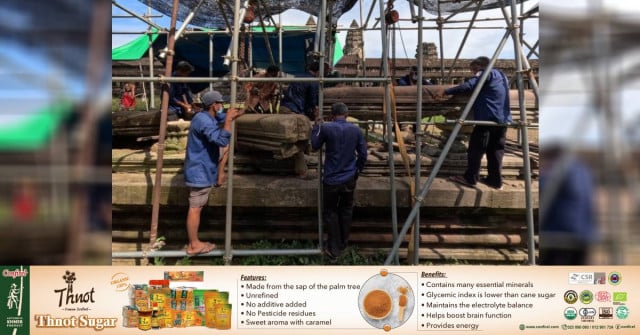 November 21, 2023 11:55 AM
SIEM REAP – The restoration project of the Naga balustrade and staircase at the South of Angkor Wat temple is set to be completed by the end of November, the APSARA National Authority said.
Say Sophearin, an archaeologist at the Department of Temple Preservation and Archeology, said over 90 percent of the Naga balustrade and staircase have been repaired over the last three months.
He explained that there were three stages in the work. In the first phase, the ancient drainage system was restored and the weakened staircase was strengthened by placing supporting stones.
The second phase consisted of replacing the stones that had been lost with new ones in order to strengthen the unbalanced Naga's head.
The final phase aimed to repair the 15-meter-long Naga balustrade, which forms part of the assembly's structure, and to enable the Naga's body to be reset to its initial position.
"The restoration process has been complex, requiring careful documentation, analysis, and treatment of each individual stone," said Sophearin.
The restoration has been underway since mid-July. Some of the remaining tasks consist of shaping stones to shape the new body of the Naga body and compacting the ground to prevent water leaks and avoid additional deterioration.
"The work should be wrapped up by the end of November 2023," Sophearin added.
The restored Naga balustrades will not only enhance the aesthetic beauty of Angkor Wat but also contribute to its structural stability and longevity.
Related Articles