Armistice Day Ceremony in Phnom Penh to Honor Cambodian Soldiers in World War I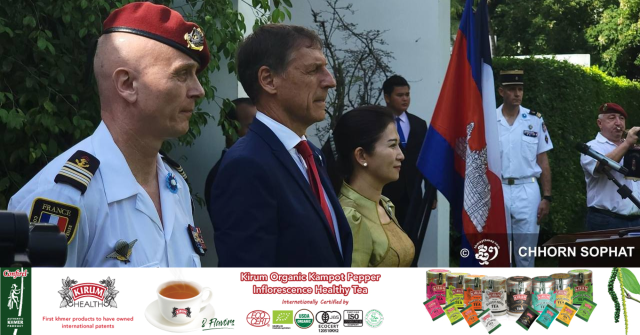 November 11, 2023 7:00 PM
PHNOM PENH — The French Embassy in Phnom Penh commemorated on Nov. 11 the French and Cambodians soldiers who died in the First World War during a ceremony held in front of the Roupi Monument.
The First World War, known as "the Great War," ended on Nov. 11, 1918, with the signing of the Armistice, the agreement negotiated by the military authorities with the immediate aim of bringing the fighting to an end.
In Cambodia, 151 Cambodians and 33 French nationals died in the First World War.
During the ceremony in Phnom Penh, French Ambassador Jacques Pellet said the day was an opportunity to remind people of the participation of Cambodian soldiers in that conflict.
"Today, it's an opportunity to honor the memory [of these soldiers] and to mark the strong quality of relations we have with Cambodia," he said.
Pellet said that the French Embassy had wished to honor the Cambodian soldiers who fought with their French allies in the First World War by laying a wreath in front of monument.
"All those who died for France, whether civilian or military, are now honored at these ceremonies," he said. "This also enables us to pay tribute to all those who perished during overseas operations."
France and Cambodia have a long history of military cooperation, which includes training at the National Center for Peacekeeping Forces, Mine and ERW Clearance (NPMEC) and the Thmat Paung officers' school, focusing on strengthening Cambodian peacekeepers and training Cambodian officers.
"French language training is part of Cambodia's efforts to participate in tomorrow's peacekeeping operations as most Cambodian troops are deployed in French-speaking areas," Pellet said.
Regarding France-Cambodia relations, he said that, after Cambodia had declared its independence on Nov. 9, 1953, putting an end to its Protectorate treaty with France, this did not end France-Cambodia relations. On the contrary: There were more French people in Cambodia than during the Protectorate, he said.
"We did more cooperation together," Pellet said. "That's why we think that the 70th year anniversary [of Cambodia's independence] is a very important moment not only for Cambodia but also for our relations."
Related Articles
November 3, 2022 10:36 AM