Banks to Adopt Standard Contracts for sub-$50,000 Loans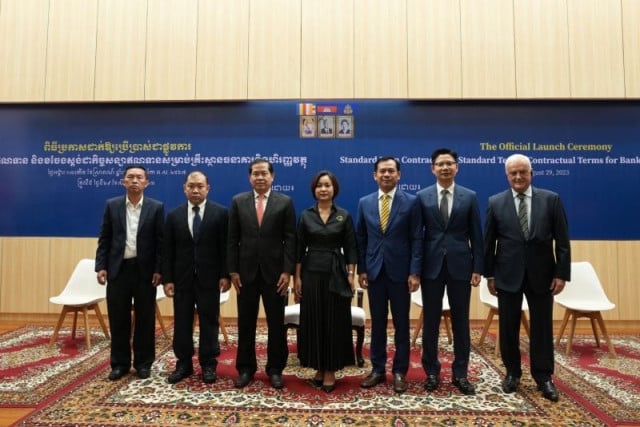 PHNOM PENH – Banks and financial institutions will use standard loan contracts and tests of contractual terms for consumers who borrow less than $50,000 from Nov. 1.
The changes will apply only to new loans or consumers, Sok Voeun, the chairman of Cambodia Microfinance Association (CMA), said at the launch of the Standard Loan Contract and Standard Test of Contractual Terms for Banks and Financial Institutions on Aug. 29.
The aim is to make the process easier for consumers and improve effectiveness, transparency and consumer protection to sustain the finance sector.
The changes will apply to commercial banks, specialized banks, microfinance deposit-taking institutions, microfinance non deposit-taking institutions, rural credit institutions, and financial leasing companies.
"For a loan of or less than $50,000, all banking and financial institutions must use the same format and terms in four categories of the Standard Loan Contract issued by the Association of Banks in Cambodia (ABC) and the CMA," Sok Voeun said.
These categories are secured loans, unsecured loans, financial leasing and group loans.
For loans between $50,000 and $100,000, banks and financial institutions are required to apply only the Standard Text of Contractual Terms provided by the CMA and ABC in their credit agreements.
ABC vice chairman Rath Sophoan said implementation will promote competitiveness, protect consumers, develop the banking and financial sector and strengthen the consumers' complaints mechanism.
Chea Serey, governor of the National Bank of Cambodia (NBC), encouraged all banks and financial institutions to apply these common standards in line with the Pentagonal Strategy-Phase 1 of the 7th mandate government.
The governor said these standards showed how the institutions, the NBC and the government were protecting consumers and strengthening financial inclusion. This was reflected through the responsible provision of services and ethical competition.
The new standards would make comparisons of the rates, fees and credit provisions of different institutions more convenient and transparent.
Contracts would set out terms for customers who want to pay off loans early and be given back personal documents. Customer complaints procedures would be included.
Originally written in Khmer for ThmeyThmey, this story was translated by Meng Seavmey for Cambodianess.
Related Articles