Bird Flu Outbreak in Prey Veng Seemingly Under Control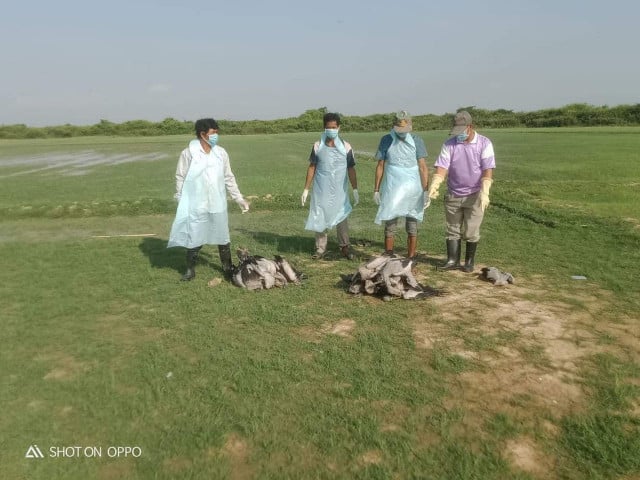 Phat Dane
April 21, 2021 9:44 AM
With no real explanation, the number of dead birds found daily has now dropped to zero, but officials believe the answer could lie in the rain.
PHNOM PENH--More than a month after it began, the avian influenza bird flu A(H5N1) outbreak in Prey Veng Province's Tuol Porn Taley Boeung Sne conservation area appears to be under control after authorities have found no new dead birds since April 17.
Deputy Chief of Toul Porn Taley, Noun Sareth said that the rate of deaths linked to the bird flu outbreak has significantly slowed down, with roughly two or three birds being found dead each day over the past four or five days, before dropping to zero as of April 17.
"From April 14 to 16, there were around three birds being found dead. From 17 April, there have been no dying or sick birds in our areas. [Since the outbreak began], there have been 2,009 dead birds discovered," Sareth said.
Sareth's observations were backed up by official figures which also pegged the death toll at 2,009, of which 2,002 were reportedly Asian Openbills.
However, Sareth said he has no real explanation for the sudden drop off in deaths, although he noted that bird flu can occur naturally and is spread through birds' feces and so the recent bursts of rain could have helped wash away contaminated excrement.
Despite the drop in bird deaths, the authorities are still not allowing local people or tourists to enter the area as officials are still monitoring the situation.



The A(H5N1) outbreak was reported on March 17, but it wasn't confirmed by the Ministry of Agriculture, Forestry and Fisheries until March 25 when Agriculture Minister Veng Sakhon ordered a probe into the origins of the virus.
Spanning some 3,557 hectares across three districts and Prey Veng City in Prey Veng Province, Tuol Porn Taley Sne is home to millions of gravely endangered species of birds such as anhinga, spot-billed pelican, black-headed ibis, lesser adjutant and Asian openbill birds.
Related Articles