Cambodia Asks to Buy Five Million Doses of COVID-19 Vaccine from India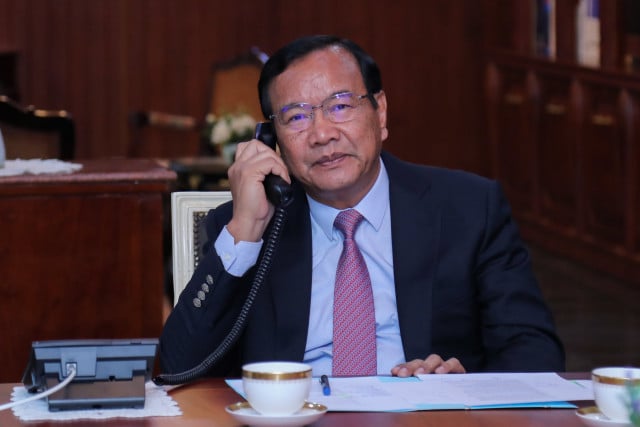 Phoung Vantha
February 19, 2021 7:18 AM
As the country continues its vaccination campaign with a vaccine donated by China
PHNOM PENH—Cambodia has requested to purchase five million doses of a COVID-19 vaccine produced in India.
According to a press release of the Ministry of Foreign Affairs and International Cooperation, the purchase was discussed on Feb. 18 during a phone conversation between Minister of Foreign Affairs Prak Sokhonn and his Indian counterpart Subrahmanyam Jaishankar with Sokhonn explaining that Prime Minister Hun Sen had made the decision to buy vaccine doses from India because of the long history of closed relations between the two countries and also because Cambodians trust Indian medicine and healthcare products, which tend to be efficient and affordable.
Jaishankar said that he will mention Cambodia's purchase request to Indian Prime Minister Narendra Modi and do his best to have Cambodia's demand met, according to the ministry's press release.
During their conversation, Sokhonn thanked India on behalf of the Cambodian government for donating to the country 100,000 doses of COVID-19 vaccine from the company Serum Institute of India.
"[Sokhonn] extended his sincere thanks to the Government of India for approving a supply of 100,000 COVID-19 vaccine doses to Cambodia through the Serum Institute of India on a contract basis despite innumerable competing requests from partner countries and domestic demand," the ministry's press release read.
Ministry of Foreign Affairs spokesman Koy Koung on Feb. 19 said that he could not say at this point when the 100,000 doses of the vaccine would arrive in the country.
As for the five million vaccine doses to be purchased from India, the Cambodian government expects to soon receive a first shipment of one million doses, he said.
"[With] at least one million doses in the first phase…we gradually get the COVID-19 vaccine and continue to vaccinate people gradually," Koung said in interview, adding that India has informed Cambodia that the full order of five million doses could not be delivered all at the same time.
On Feb. 7, the Cambodian government received 600,000 doses of vaccine doses from China and has started its vaccination campaign.
According to Ministry of Health Secretary of State and spokesperson Or Vandine, 4,669 persons came to be vaccinated between Feb. 10 and 18. Among them, 3,803 persons were vaccinated, the others being denied the vaccine due to health-related issues.
Cambodia is due to receive around 3 million doses of COVID-19 vaccine from Australia through a $28 million grant.
Related Articles