Cambodia Calls for Peaceful Solution to Ukraine Crisis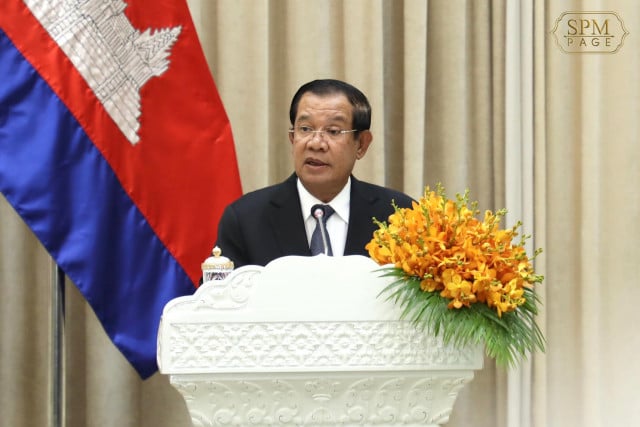 February 25, 2022 2:00 PM
PM says ASEAN needs to reach consensus on war
PHNOM PENH--Prime Minister Hun Sen has called for dialogue and a peaceful resolution to the Ukraine crisis.
During a joint press conference on Feb. 24 with visiting Malaysian Prime Minister Ismail Sabri bin Yaakob, Hun Sen said Cambodia was concerned by the situation despite the crisis being far from the region.
"Even though we are small country and located far way, these kinds of big international issues are commonly discussed by leaders," he said.
He and his Malaysian counterpart shared the same concern about the crisis and wanted to see the issue resolved by peaceful means.
"Prime Minister Ismail and I agreed that this issue requires a dialogue and peaceful resolution," Hun Sen added.
Asked if any statement on the crisis would be issued by the ASEAN regional grouping, Hun Sen, as the current chair, said it required a consensus among the ten countries to issue any statement.
"We discuss it quietly," he said.
Meanwhile, in Germany, Cambodian Foreign Minister Prak Sokhonn discussed the crisis with his German counterpart Annalena Baerbock. Both stressed the importance of solidarity and partnership between the Group of Seven (G7) nations and ASEAN.
The Cambodian Foreign Ministry said they also highlighted the significance of maintaining world peace and the rule of law in international affairs as the fundaments for international cooperation and shared prosperity.
Russian President Vladimir Putin ordered a surprised special military operation in eastern Ukraine on Thursday, prompting fears that it would escalate into a full-scale war. The move triggered condemnation from Western leaders and sanctions against Russia.
According to the AFP news agency, Russia launched airstrikes against Ukrainian military facilities across the country and ground forces moved in from the north, south and east. More than a hundred people have been reported killed while many have been forced to flee their homes.
Related Articles