Cambodia gives green light to new solar farms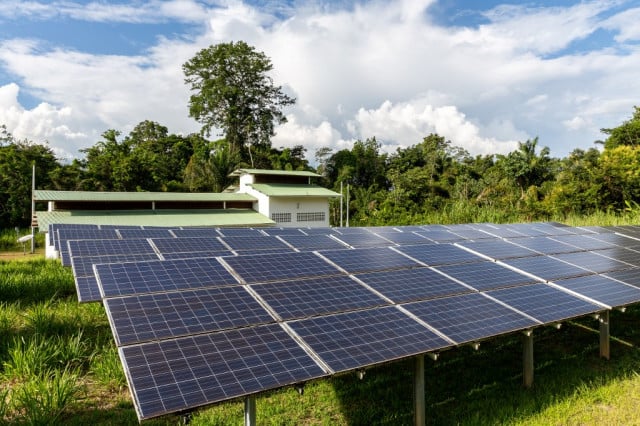 Thmey Thmey
July 12, 2019 12:50 PM
The four solar projects will generate up to 140 megawatt

PHNOM PENH--The Cambodian government has given a green light to four new solar projects, which can produce up to 140 megawatt of electricity to help meet the growing demand, a government spokesman said Friday.

Phay Siphan, the spokesman, said the four solar farms, approved during the weekly cabinet meeting presided over by Prime Minister Hun Sen, will be located in four different provinces.
They include a 30-megawatt farm in Pursat, 60-megawatt in Battambang, 30-megawatt in Banteay Meanchey, and 20-megawatt in Svay Rieng provinces.
Siphan said the new projects will crucial for addressing the growing demand of electricity from 2020 onward.
"Although all solar farms can generate electricity round 18.5 percent of total electricity demand and be unstable depending on less or more sunlight, development of solar power is a fast thing we can do and receives more financial support," he said.
The new projects will add to the 10-megawatt solar farm now in operation in Bavet, Svay Rieng province. Its construction has been funded by Asian Development Bank (ADB), which, in May,also pledged another US$7.64 million in loan for the construction of a 100-megawatt solar farm in Kampong Chhnang province.
Cambodia is trying to diversify its electricity sources to reduce its heavy reliance on electricity generated from fuel-combusting generators as well as hydroelectric dams.
According to Ministry of Mines and Energy, Cambodia produced around 2,650 megawatt in 2018—50 percent of which came from hydroelectric dams.
During the peak of the hot season early this year, Cambodia faced a shortage of 400 megawatt of power, forcing the government to implement a rotation of power cut in the capital Phnom Penh and in several major provinces.
Related Articles